Gut Health
BIOHM's Wellness Program: Everything You Need to Know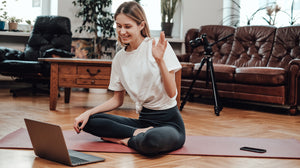 A customized nutrition program is a set of recommendations, protocols and strategies that are individualized just for a specific person. Usually these recommendations/protocols are based on test results to help get the best results possible. Wellness programs have become increasingly popular and there is even scientific evidence to support customized nutrition interventions like these. Some of these research studies even show how impactful a tailored nutrition program can be on improving gut health.
This is the very reason BIOHM is offering a customized wellness program. Gut health improvement sometimes can be challenging, especially if one is doing it alone. BIOHM's Wellness Program gives you the chance to work 1:1 with a dietitian and customize your interventions based on your gut test. This way, we know exactly what's going on in your gut and we can recommend a series of supplements, diet adjustments and lifestyle changes to help you significantly improve your digestive issues.
If you have gut problems, you are probably all too aware of how much they can impact your quality of life AND increase your health care costs. You're not alone in this!
Healthy microbiome with a proper diet is an integral part of a healthy functioning gut, for nutrient delivery, for normal functioning of the immune system. Even something that seems so simple, like diet, can have a profound effect on GI recovery.3
For example, when dealing with health issues and looking for customized options, here are the things that need consideration:
Are there imbalances in the gut microbiome?
Is your digestion functioning the way it should and as OPTIMALLY as it should?
Is occasional stress impacting your health? (Hint: even if you don't feel stressed, we can't rule it out due to the impact of physiological stressors on the body)
How is your lifestyle impacting your health? Your meal patterns, sunlight exposure, exercise and sleep are all primary examples.
Do your health challenges seem totally random and tend to vary or are there patterns you've been able to recognize?
Are there any foods that seem to be triggers for your challenges?
Food can alter the microbiota, and the microbiota plays a big role in health.2 Among individuals there are specific foods that may be a trigger causing bloating, gas, diarrhea, and mild abdominal pain. The existence of these issues alone can also change the gut microbiome because they reflect a defect in the functioning of digestion. Various factors affect our diet such as taste preference and personal and cultural beliefs.1 This can create challenges when trying to create a nutrition plan on your own.  
The plus side of being in a customized program is that you get the help and support you need for your specific issues. This makes things easier!
Benefits of BIOHM's Wellness Program include:
Customized approach to supporting the gut
A built in support system
Positive relationship with food
Improvements in signs and symptoms
Decreased levels of occasional or mild stress
A specific action plan customized just for you 
BIOHM's Wellness Program is a well-rounded program that takes your unique microbiome and provides you with 1:1 support in creating goals on how to improve your intake and lifestyle in order positively change the gut. Food is an essential part of healing and no one or gut is alike, so personalization is key! Customized nutrition interventions have taken a #1 place among many professionals when designing your health goals because food has the power to support gut health in a meaningful way.
BIOHM's Wellness Program provides you with 12 weeks of support to help you personalize results and get on the right track to improve your gut. Our dietitians are well equipped to guide you throughout and answer questions you have so that you walk away every week with clarity and direction.
References:
Werlang ME, Palmer WC, Lacy BE. Irritable Bowel Syndrome and Dietary Interventions. Gastroenterol Hepatol (N Y). 2019;15(1):16-26.
El-Salhy M. Nutritional Management of Gastrointestinal Diseases and Disorders. Nutrients. 2019;11(12):3013. Published 2019 Dec 10. doi:10.3390/nu11123013
Zoran D. Nutritional management of gastrointestinal disease. Clin Tech Small Anim Pract. 2003;18(4):211-217. doi:10.1016/S1096-2867(03)00074-4