Kid's Probiotic
Boost your kid's digestive health with BIOHM's Kid's Probiotic chewable. This product contains beneficial probiotic organisms which help to support overall general health while promoting a healthy digestive system and bowel function.* Plus, they will love the fruit punch flavor!*
Highlights
Supports digestive health*
Promotes immune health*
Helps restore regularity*
Healthy gut - healthy kid*
Free Shipping On Orders Over $80
60-Day Money Back Guarantee
Made in the USA from U.S. and Imported Ingredients
FSA/HSA Eligible
BIOHM Kid's Probiotic chewable contains BIOHM FX, a patent pending blend of 5 billion probiotics, fungi and a digestive enzyme for supporting children's digestive health.*

A healthy gut is essential for maintaining optimum health and helping kids absorb nutrients. BIOHM Kid's Probiotic comes packed with these healthy probiotics that are crucial for providing healthy bacteria and fungi, while promoting a stronger digestive system.*

The carefully selected natural ingredients found in Kid's Probiotic provide the following benefits:

• Supports digestive health*
• Promotes immune health*
• Helps restore regularity*
• Healthy gut - healthy kid*

GOOD BACTERIA + GOOD FUNGI + DIGESTIVE ENZYMES + FRUIT PUNCH FLAVOR = TOTAL GUT BALANCE FOR KIDS

Boost your kid's digestive health with BIOHM's Kid's Probiotic chewable. This product contains beneficial probiotic organisms which help to support overall general health while promoting a healthy digestive system and bowel function.* Plus, they will love the fruit punch flavor!

Kid's Probiotic may also benefit children's health by supporting their developing immune system.*


Children ages 4 and older, chew one tablet daily with food. To alleviate occasional digestive discomfort, chew two tablets daily. If taking two tablets, chew one in the morning and one in the evening.
Quality Ingredients
Painstakingly formulated with you in mind.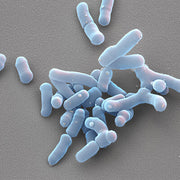 B. breve
A beneficial bacteria in a healthy human gut microbiome that produces short-chain fatty acids (SCFAs) that support mucosal health and gut balance.*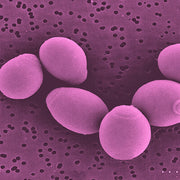 S. boulardii
A beneficial species of fungi (yeast) shown to help maintain fungal balance and an overall healthy microbiome.*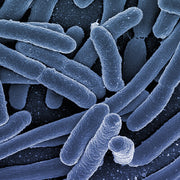 L. acidophilus
A type of bacteria found in a healthy gut microbiome that produces lactic acid to help keep the gut pH acidic and fight pathogenic growth.*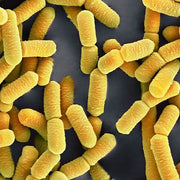 L. rhamnosus
A beneficial bacteria in a healthy gut microbiome that helps maintain balance and prevent pathogenic growth.*
Amylase
An enzyme present in saliva to help breakdown starch into sugars and also shown to help disrupt biofilms in the GI tract.*
All
BIOHM FX Probiotic Blend: B. breve 19bx, S. boulardii 16mxg, L. acidophilus 16axg, L. rhamnosus 18fx, Amylase

Other Ingredients: (Sorbitol, Natural flavors, Microcrystalline cellulose, Stearic acid, Citric acid, Magnesium stearate, Organic rice hull concentrate, Rebaudioside A (from Stevia leaf extract))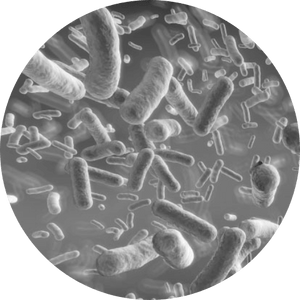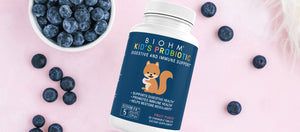 Benefits of BIOHM Probiotics
Unparalleled innovation requires unparalleled expertise. BIOHM has been thoroughly tested by independent experts at Case Western Reserve University School of Medicine, one of the leading medical research institutions in the United States. Our products are scientifically proven to*:
Digestive Plaque
You know plaque builds up on your teeth; but did you know that plaque also builds up in your gut? BIOHM is the first probiotic proven to help break down Digestive Plaque, allowing it to support the balance your gut's bacteria and fungi.
Bacteria & Fungi
Your gut contains both bacteria & fungi. However, ordinary probiotics only address bacteria, ignoring fungi's critical role in digestion. By combining good bacteria + good fungi + digestive enzymes, BIOHM helps maintain total gut balance.
Overall Health
The gut is the epicenter of your overall health & wellness. Through in-depth Gut Tests, personalized recommendations and revolutionary products, BIOHM offers a comprehensive approach to help you BALANCE YOUR GUT.
No, only all natural sweeteners (Stevia Leaf Extract & Sorbitol) are in the chewable.
5 Billion CFU's, per tablet.
After any meal during the day.
BIOHM Kid's Probiotic could be a choking hazard for children younger than four or kids who have hard time chewing tablets. Younger children can take the product if the tablet is crushed and added to yogurt, cereal or a smoothie.
The probiotic strains included within our powdered formula have proven survival in stomach acid in order to make it into the digestive tract. The probiotic strains have actually proven to survive with or without food, although the survival rate is better when taken with food. Please feel free to check out the published paper from a study we conducted below: https://www.longdom.org/open-access/biohm-probiotics-retain-viability-in-low-ph-environments-simulating-the-digestive-environment-44220.html
Yes. BIOHM's products are all manufactured in only GMP (Good Manufacturing Processes) certified facilities. The Kid's Probiotic goes one step further and is manufactured in a pharmaceutical grade facility.