Super Reds with Probiotics
Super Reds with Probiotics
19 SUPER REDS + PROBIOTICS + PREBIOTICS + DIGESTIVE ENZYMES = YOUR DAILY ANTIOXIDANT BOOST
Highlights
Helps boost natural energy*
Promotes improved digestion*
Free Shipping On Orders Over $80
60-Day Money Back Guarantee
Made in the USA from U.S. and Imported Ingredients
FSA/HSA Eligible
BIOHM Super Reds:

A scientifically engineered formulation that fuses 19 red fruits, vegetables and herbal extracts with BIOHM's powerful probiotics, prebiotics and digestive enzymes — and it actually tastes good! Super Red's powder contains ingredients like raspberries, beets, pomegranate, and blueberries which are rich in antioxidants called polyphenols.* There are many benefits of the polyphenols derived from the fruits found in our BIOHM Super Reds in promoting improved health.* Natural antioxidants types of polyphenols, such as the flavonoids found in our numerous berries and anthocyanins found in tart cherry, helps Super Reds play an important role in helping to fight the formation of free radicals in our bodies.*

The carefully selected natural ingredients found Super Reds, provides nutrients and antioxidants that provide the following benefits:

• Helps boost natural energy*
• Promotes improved digestion*


19 SUPER REDS + PROBIOTICS + PREBIOTICS + DIGESTIVE ENZYMES = YOUR DAILY ANTIOXIDANT BOOST

Ingredients:
Super Antioxidant Blend: (Organic Tart Cherry Powder, Raspberry Powder, Organic Acai Berry Powder, Cantaloupe Powder, Polygonum Extract (10% trans-Resveratrol), Goji Berry Powder, Hibiscus Powder, Organic Blueberry Powder, Organic Pomegranate Powder, Strawberry Powder, Cranberry Powder, Tomato Powder)

Superfoods Blend: (Organic Beet Powder, Organic Sweet Potato Powder, Organic Cordyceps Mushroom Powder, Organic Turkey Tail Mushroom Powder)

Super Digestive Fiber Blend: (Organic lnulin (Artichoke), lnulin (Chicory), Apple Pectin)

BIOHM FX Probiotic Blend: PathoBiome 1B: (L. rhamnosus 18fx, L. acidophilus 16axg, S. boulardii 16mxg, B. breve 19bx, Amylase)

Other Ingredients: (Natural flavors, Monk fruit extract, Stevia extract, Citric acid)
Mix one scoop with 8 oz. of water (cold recommended), protein powder, yogurt or your preferred beverage. Try mixing with BIOHM Super Greens for a phytonutrient boost.*
WARNING: Consuming this product can expose you to chemicals including lead, which is known to the State of California to cause cancer and birth defects or other reproductive harm.  For more information go to www.P65Warnings.ca.gov/food.
Quality Ingredients
Painstakingly formulated with you in mind.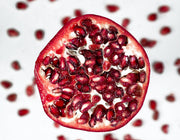 Super Antioxidant Blend
Antioxidants are compounds that combats oxidation, a process that degrades the health of the cell and causes inflammation in the body. BIOHM Super Reds includes organic pomegranate, organic tart cherry, organic acai berry, organic blueberry, cranberry, raspberry, and strawberry, which provide a myriad of antioxidants, including the antioxidant vitamins C, E, and Beta-carotene.*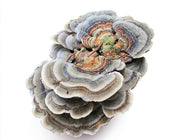 Superfoods Blend
Simply put, superfoods are nutrition powerhouses. They provide high levels of nutrients and benefits per each serving. BIOHM's Superfoods blend includes organic beets, organic turkey tail mushroom, and organic cordyceps mushroom, all touted for their amazing nutrient composition.*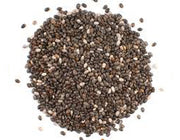 Super Digestive Fiber Blend
Healthy digestion is an absolute must for microbiome health and getting the most out of your food. This blend of organic inulin from artichoke, inulin from chicory and apple pectin, can support digestive health and prebiotic support, helping keep your gut healthy and balanced.*
All
Super Antioxidant Blend: (Organic Tart Cherry Powder, Raspberry Powder, Organic Acai Berry Powder, Cantaloupe Powder, Polygonum Extract (10% trans-Resveratrol), Goji Berry Powder, Hibiscus Powder, Organic Blueberry Powder, Organic Pomegranate Powder, Strawberry Powder, Cranberry Powder, Tomato Powder)

Superfoods Blend: (Organic Beet Powder, Organic Sweet Potato Powder, Organic Cordyceps Mushroom Powder, Organic Turkey Tail Mushroom Powder)

Super Digestive Fiber Blend: (Organic lnulin (Artichoke), lnulin (Chicory), Apple Pectin)

BIOHM FX Probiotic Blend: PathoBiome 1B: (L. rhamnosus 18fx, L. acidophilus 16axg, S. boulardii 16mxg, B. breve 19bx, Amylase)

Other Ingredients: (Natural flavors, Monk fruit extract, Stevia extract, Citric acid)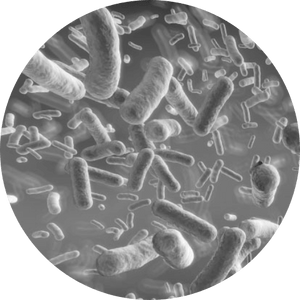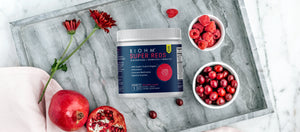 Benefits of BIOHM Probiotics
Unparalleled innovation requires unparalleled expertise. BIOHM has been thoroughly tested by independent experts at Case Western Reserve University School of Medicine, one of the leading medical research institutions in the United States. Our products are scientifically proven to*:
Digestive Plaque
You know plaque builds up on your teeth; but did you know that plaque also builds up in your gut? BIOHM is the first probiotic proven to help break down Digestive Plaque, allowing it to support the balance your gut's bacteria and fungi.
Bacteria & Fungi
Your gut contains both bacteria & fungi. However, ordinary probiotics only address bacteria, ignoring fungi's critical role in digestion. By combining good bacteria + good fungi + digestive enzymes, BIOHM helps maintain total gut balance.
Overall Health
The gut is the epicenter of your overall health & wellness. Through in-depth Gut Tests, personalized recommendations and revolutionary products, BIOHM offers a comprehensive approach to help you BALANCE YOUR GUT.
Take one scoop a day added to 8 fl oz of water or your preferred beverage. You can even mix it into food such as a bowl of yogurt and granola. We like to add BIOHM Super Reds to a glass of orange juice with a couple spoonfuls of Greek yogurt. Make sure you mix it up well! (A blender bottle works great!)
One of the main benefits of our Super Reds is the provide a convenient source of antioxidants and phytonutrients like pomegranates and acai. Plus our Super Reds includes BIOHM probiotics, prebiotics and digestive enzymes.
Red and green fruits and veggies both provide many long-term health benefits. However, fruits and vegetables of different colors contain distinct amounts of essential vitamins and minerals and unique forms of phytonutrients. As a result, the main difference between super reds and super greens is the nutrients they contain.
BIOHM has verified that BIOHM Super Reds is gluten-free by performing Wheat/Gluten (Glialdin) ELISA testing at an ISO 17025-accredited lab.
We think the naturally sweetened pomegranate flavor is delicious but don't take our word for it, see what Eve G. has to say about it: "The super reds were surprisingly tasty. No bitter, spicy or dirt tasting flavor as is with other brands. Sweet, light and very good tasting. Definitely a new staple."
While BIOHM Super Reds is incredibly nutritious, it is not intended to be a replacement for fruits and vegetables in your diet.
The probiotic strains included within our powdered formula have proven survival in stomach acid in order to make it into the digestive tract. The probiotic strains have actually proven to survive with or without food, although the survival rate is better when taken with food. Please feel free to check out the published paper from a study we conducted below: https://www.longdom.org/open-access/biohm-probiotics-retain-viability-in-low-ph-environments-simulating-the-digestive-environment-44220.html
No. At BIOHM, we've painstakingly formulated our products from the ground up to ensure they only contain the best ingredients available and do not include anything else, period. BIOHM Super Reds is manufactured in the United States at an FDA-audited facility.