Women's Nourish Regimen
BIOHM Women's Balanced Probiotic: URINARY + VAGINAL + DIGESTIVE + IMMUNE SUPPORT = 4 IN 1 WOMEN'S HEALTH

BIOHM Prebiotic Boost: INULINS + XOS + APPLE PECTIN = OPTIMAL FIBERS FOR PROBIOTIC ENVIRONMENT
Free Shipping On Orders Over $80
60-Day Money Back Guarantee
Made in the USA from U.S. and Imported Ingredients
FSA/HSA Eligible
A simple nourish regimen for women to help support your microbiome.*

BIOHM's Women's Balanced Probiotic promotes vaginal and urinary tract health, as well as providing digestive and immune system support.* Maintaining a healthy bacterial balance promotes vaginal and urinary tract health. This product of 30B CFU's is a high-potency probiotic formula containing a proprietary blend featuring nine probiotic strains providing meaningful vaginal and urinary tract health support.*

BIOHM's Women's Balanced Probiotic uses the species most commonly found in a healthy vagina to replenish and colonize your vagina's microflora. Taken regularly, this probiotic may help restore and maintain your vagina's pH at an optimal level for ongoing vaginal health.* Specifically, Lactobacillus acidophilus is used as it is the most-researched strain of probiotic when it comes to establishing and maintaining a healthy vaginal balance.*

The carefully selected ingredients found in BIOHM's Women's Balanced Probiotic provide the following benefits:

• Promotes healthy vaginal & urinary tract health*
• Supports a healthy immune system and function*
• Maintains a healthy intestinal tract*
• Helps maintain healthy vaginal pH levels*
• Supports regularity and normal bowel movement.*

DE111® Bacillus subtilis 1 billion CFU dosage:

• "Supports regularity"¹
• "Supports normal bowel movements"¹
• "Helps protect against occasional constipation or diarrhea"¹
• "Supports immune health"²
• "Supports a robust immune system function that naturally supports good health"²
• "Promotes a healthy immune system and response that helps to support good health naturally"²

Deerland Probiotics and Enzymes Human Clinical Structure/Function Claim Substantiations PreforPro®

Digestive Health Claims:
• Maintains a healthy intestinal tract³᠈⁴᠈⁵
• Supports normal gut health and gut functions³᠈⁴᠈⁵
• Promotes optimal health by supporting normal gut microflora³᠈⁴᠈⁵
• Stimulates the colon to maintain a normal microflora³᠈⁴᠈⁵
• Stimulates the proliferation of beneficial bacteria that comprise a healthy colon³᠈⁴᠈⁵

Immune Health Claims:
• Promotes a healthy immune system and function⁴᠈⁵
• Maintains a healthy immune system that helps the body protect against infection naturally⁴᠈⁵
• Supports the proliferation of beneficial bacteria that promote normal immune system function⁴᠈⁵

Urinary Tract Health Claims:
• Supports a healthy urinary tract⁴
• Promotes urinary tract health⁴
• Supports urinary tract health for women⁴

BIOHM Prebiotic Boost: Support your gut's probiotic environment by creating an ideal feeding ground for probiotic organisms.* Prebiotics serve as food for friendly bacteria and other beneficial organisms in the gut. The benefits of prebiotics have links to the benefits of probiotics.

Prebiotics may support a healthy gut, offering better digestive health, and other health benefits.* Having a balanced amount of both prebiotics and probiotics can help ensure that you have the right balance of these bacteria to keep your gut microbiota healthy.*

References for Women's Balanced Probiotic Claims:
1. Cuentas, Ana Maria, et al. "The Effect of Bacillus Subtilis DE111 on the Daily Bowel Movement Profile for People with Occasional Gastrointestinal Irregularity." Journal of Probiotics & Health, vol. 05, no. 04, 2017, doi:10.4172/2329-8901.1000189

2. Freedman, K.E.; Hill, J.L.; Wei, Y.; Vazquez, A.R.; Grubb, D.S.; Trotter, R.E.; Wrigley, S.D.; Johnson, S.A.; Foster, M.T.; Weir, T.L. Examining the Gastrointestinal and Immunomodulatory Effects of the Novel Probiotic Bacillus subtilis DE111. Int. J. Mol. Sci. 2021, 22, 2453. https://doi.org/10.3390/ijms22052453

3. Gindin et al., 2018 'Bacteriophage for Gastrointestinal Health (PHAGE) Study: Evaluating the Safety and Tolerability of Supplemental Bacteriophage Consumption' – Journal of the American College of Nutrition

4. Febvre et al., 2019 'PHAGE Study: Effects of Supplemental Bacteriophage Intake on Inflammation and Gut Microbiota in Healthy Adults' – Nutrients Journal

5. Grubb et al., 2020 'PHAGE-2 Study: Supplemental Bacteriophages Extend Bifidobacterium animalis subsp. lactis BL-04 Benefits on Gut Health and Microbiota in Healthy Adults' – Nutrients Journal
BIOHM Women's Balanced Probiotic: URINARY + VAGINAL + DIGESTIVE + IMMUNE SUPPORT = 4 IN 1 WOMEN'S HEALTH

BIOHM Prebiotic Boost: INULINS + XOS + APPLE PECTIN = OPTIMAL FIBERS FOR PROBIOTIC ENVIRONMENT
BIOHM Women's Balanced Probiotic: Take one (1) capsule daily with food.

BIOHM Prebiotic Boost: Take two (2) capsules per day. Best taken with a meal.
Quality Ingredients
Painstakingly formulated with you in mind.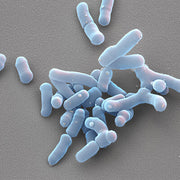 BIOHM FX® Probiotic Blend
BIOHM FX® Probiotic Blend ® provides beneficial probiotics bacteria, fungi and an enzyme, for a healthy gut microbiome and immune support.*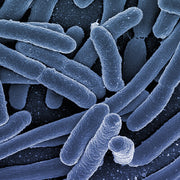 PreforPro®
PreforPro® is a next-generation prebiotic that supports the growth of healthy bacteria in the gut utilizing phage technology.* PreforPro stimulates the proliferation of beneficial bacteria that comprise a healthy colon.*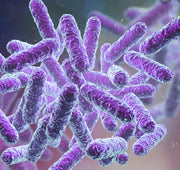 DE111®
DE111® Bacillus subtilis supports the growth of good bacteria in the gut, helping to crowd out undesirable bacteria and promote proper digestion.* DE111 has also been tested to improve regularity of normal bowel movements.*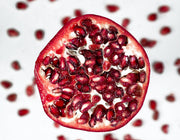 Pomegranate Superfood
Pomegranate Superfood is added in this formula for its powerful antioxidants to help protect your body from free radicals.* Pomegranate also contains compounds that may help fight off potentially harmful bacteria, fungi, and yeasts.*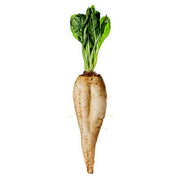 Inulin
Inulin (Chicory Root) - Fresh chicory root is a good source of inulin. Inulin is a type of fiber known as a fructan or fructooligosaccharide, a carbohydrate made from a short chain of fructose molecules that your body doesn't digest. You already may be familiar with Inulin as Inulin is also the added-fiber of choice for high fiber bars, energy bars, cereals, breads, granolas – especially low-carb ones. Inulin is also known as a "prebiotic" fiber based on the fact that it's highly fermentable by the friendly bacteria in our guts. Prebiotics are, in essence, like food for "probiotics;" or, a source of nutrition for gut bacteria that helps nourish them and enable them to thrive.*

Inulin (Agave) - The Blue Agave plant is a succulent plant belonging to the Lily family. Another very good source of Inulin. Agave inulin is a nutritious prebiotic fiber and also a highly soluble non-nutritive sweetener that can be used to replace sugar in many foods and beverages. Agave inulin is known for its potential intestinal health and blood sugar benefits, among others.*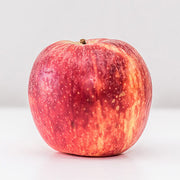 Apple Pectin
Pectin is a prebiotic fiber found in the cell walls of plants including apples and citrus fruits. Apple pectin promotes a healthy gut by binding substances in the intestine and adds bulk to the stools.*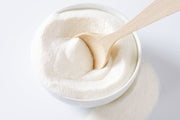 Xylooligosaccharide (PreticX® 95)
A new prebiotic XOS (xylooligosaccharide) that is Non-GMO project verified and helps to maintain healthy flora balance, nourishes the intestinal lining, and supports regularity without additional bloating or flatulence.*
All
BIOHM Women's Balanced Probiotic Ingredients:

Proprietary Blend: Lactobacillus plantarum, BIOHM FX Blend (Lactobacillus acidophilus 16axg, Lactobacillus rhamnosus 1 8fx, Bifidobacterium breve 19bx, Saccharomyces boulardii 16mxg, amylase), Lactobacillus casei , Lactobacillus rhamnosus , Bacillus subtilis DE111®, Lactobacillus acidophilus , Lactobacillus reuteri , Bifidobacterium animalis lactis

Pomegranate extract (hull)

PreforPro (containing): LH01 - Myoviridae, LL5 - Siphoviridae, T4D - Myoviridae, LL12 - Myoviridae

Other Ingredients: Rice maltodextrin, Capsule (Hypromellose, pectin, water), Rice hull, Medium chain triglycerides (MCT)

BIOHM Prebiotic Boost Ingredients: Inulin (Chicory), Inulin (Organic Agave), Xylooligosaccharides (PreticX 95P), Apple Pectin (Powder), Hypromellose (capsule), Microcrystalline cellulose, Organic rice hull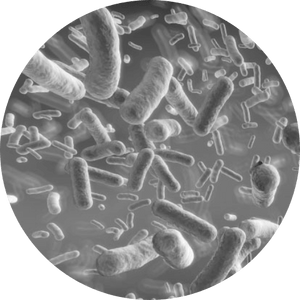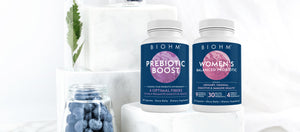 Benefits of BIOHM Probiotics
Unparalleled innovation requires unparalleled expertise. BIOHM has been thoroughly tested by independent experts at Case Western Reserve University School of Medicine, one of the leading medical research institutions in the United States. Our products are scientifically proven to*:
Digestive Plaque
You know plaque builds up on your teeth; but did you know that plaque also builds up in your gut? BIOHM is the first probiotic proven to help break down Digestive Plaque, allowing it to support the balance your gut's bacteria and fungi.
Bacteria & Fungi
Your gut contains both bacteria & fungi. However, ordinary probiotics only address bacteria, ignoring fungi's critical role in digestion. By combining good bacteria + good fungi + digestive enzymes, BIOHM helps maintain total gut balance.
Overall Health
The gut is the epicenter of your overall health & wellness. Through in-depth Gut Tests, personalized recommendations and revolutionary products, BIOHM offers a comprehensive approach to help you BALANCE YOUR GUT.
We all have a microbiome in our gut, mouth, skin and lungs, but the beneficial bacteria and microbes which inhabit the urinary tract and vagina are of particular importance to women. In the vagina and urinary tract, these helpful microbes are thought to exert many of the same beneficial effects as they would in the gut, helping to maintain a healthy balance.
Women's Balanced Probiotic should be taken on a regular basis to reach high enough levels to achieve proper colonization and have a beneficial effect. If your specific health issues cease and do not reoccur, you and your doctor can make that determination on your supplementing.
Research suggests using probiotics for one to three months may be useful in treating and establishing a healthy vaginal balance.
Our prebiotic and probiotic supplements work best together. The prebiotic nourishes your gut, while our probiotic sustains it, so your gut stays optimized.
Absolutely! This nourish regimen of probiotic and prebiotic supplements are designed to work best when taken together, but you can certainly take them separately depending on your needs.
Yes, unless you are getting the recommended 28 grams of daily fiber, we recommend taking our Prebiotics with products that contain probiotics like BIOHM Women's Balanced Probiotic for instance. Prebiotics are indigestible fibers that provide fuel and act as a fuel to promote the growth of the good bacteria in our gut. Simply stated, they're the food that the probiotics need in order to re-populate.
Prebiotics are shown to improve stool frequency and consistency, and when combined with probiotics, may provide even more benefits for regularity of bowel movements.*
BIOHM Prebiotics does contain 4 prebiotic types. Getting a wide range of prebiotics either through your diet or in a supplement such as this is ideal because the different types of probiotics each have their preferred prebiotics that they like to feed on.
The probiotic strains included within our powdered formula have proven survival in stomach acid in order to make it into the digestive tract. The probiotic strains have actually proven to survive with or without food, although the survival rate is better when taken with food. Please feel free to check out the published paper from a study we conducted below: https://www.longdom.org/open-access/biohm-probiotics-retain-viability-in-low-ph-environments-simulating-the-digestive-environment-44220.html
No. At BIOHM, we've painstakingly formulated our probiotics from the ground up to ensure they only contain the best strains of cultures, enzymes and ingredients available and do not include anything else, period.

BIOHM's capsules are 100% vegetarian and are manufactured in the United States at an FDA-audited facility.