Recipes
Kiwi Celery Shots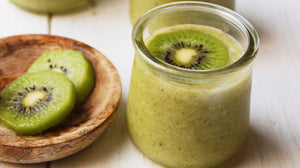 Want to switch up your usual green shots? Try these Kiwi Celery Shots. Not only will you enjoy the taste, but you will also enjoy the gut health benefits from BIOHM Super Greens!
The carefully selected ingredients found in BIOHM's Super Greens with Probiotics provide the following benefits:

• Supports a healthy digestive tract and GI microbial balance*
• Assists in supporting detoxification processes*
• Helps support a healthy immune system*
• Assists in supporting cellular health*
• Supports antioxidant function by reducing free radical exposure*
• Supports gastrointestinal tract gut wall integrity*
• Provides prebiotic and microbial balance support*
Ingredients:
1 bunch celery, organic
4 kiwis, skin removed and quartered
1 kiwi, skin removed and sliced
¼ cup coconut milk
1 scoop BIOHM Super Greens
Instructions:
Juice celery or blend and strain pulp. Add to your blender along with kiwi, greens and coconut milk. Blend and pour into small cups.