Recipes
Apple Peanut Butter Pops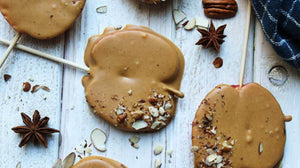 Caramel apples are all the rage, but the amount of sugar is a real downer. Try these apple pops dipped in protein-rich peanut butter. Alternatively, you can use any nut butter for this recipe.
Ingredients:
1 red apple
1 cup peanut butter or any nut butter of choice
1 tablespoon coconut oil
1 teaspoon honey
1 teaspoon cinnamon
Crushed almonds and pecans, for topping  
Instructions:
Slice apples into ½ slices. Add sticks to the bottom of each slice. Add peanut butter, honey and cinnamon to a bowl and stir. Add to the microwave if the peanut butter is too stiff. Dip each slice into peanut butter and sprinkle with nuts. Place on a baking sheet covered with wax paper and place in the freezer to cool. Enjoy!