Recipes
Super Greens Banana Donut with Yogurt Icing
Guilt-free donuts?? Yes, please! Satisfy your sweet tooth cravings without taking a cheat day!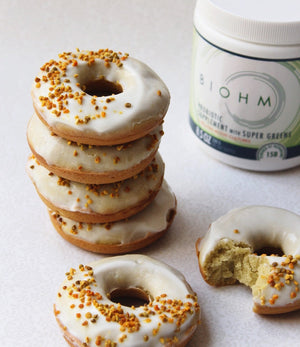 Donuts:
2 cups white whole wheat flour
1 ½ teaspoon baking soda
1 ½ baking powder
½ teaspoon ground cinnamon
1/8 teaspoon ground nutmeg
½ teaspoon salt
½ tablespoon coconut oil or unsalted butter (melted)
2 teaspoons vanilla extract
1 ½ teaspoon vanilla stevia
1 cup mashed banana
¾ cup unsweetened cashew milk
1 scoop BIOHM Super Greens
Glaze:
1 cup vanilla yogurt (add a sprinkle of powdered sugar if desired)
Bee pollen
Directions:
Preheat the oven to 350°F, and lightly coat 28 mini donut cups with nonstick cooking spray.
To prepare the donuts, whisk together the flour, baking powder, baking soda, cinnamon, nutmeg, salt, and Super Greens in a medium bowl. In a separate bowl, whisk together the coconut oil, vanilla extract, and vanilla stevia. Stir in the mashed banana. Alternate between adding the flour mixture and milk, beginning and ending with the flour mixture, and stirring just until incorporated. (For best results, add the flour mixture in 4 equal parts.)
Transfer the batter to a large zip-topped plastic bag, and cut off one corner, Pipe the batter into the prepared donut cups. Bake at 350°F for 12-15 minutes or until the tops are firm to the touch. Cool in the muffin cups for 5 minutes before carefully transferring to a wire rack to cool completely.
Just before serving, dip each donut into the yogurt, and place back onto the wire racks or a plate to let the glaze set.