Supplements
Nutritious Goodness for Healthy Growth and a Healthy Kid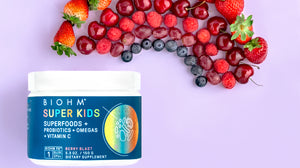 BIOHM Super Kids Probiotic Supplement: Full of Nutritious Goodness for Healthy Growth and a Healthy Kid
Super Kids is a one-of-a-kind product made to help give your children a boost of nutrients, support digestion, and support a healthy microbiome.
Super Kids contains 14 superfoods–foods that contain antioxidants that cells love and so does the healthy bacteria and fungi – and also includes the proper ratio of the healthy omega's for a healthy inflammatory response, vitamin C to support growing bodies, probiotics and prebiotics to enhance a healthy microbiome.
Super Kids has a natural berry flavor that kids love and enjoy drinking! It has never been so easy to include healthy and nutritious fruits & veggies in your kids' diet. 
Benefits of BIOHM Super Kids:
Super Kids formula is chock full of benefits but here are the major benefits that sum it up:
Promotes health, support for growing bodies & development: the wide variety of superfoods packs a punch of Vitamin C, fruits, veggies and antioxidants that all kids' bodies require supporting health for their growing needs.
Support the immune system: A healthy microbiome and a boost of Vitamin C reinforce a healthy immune system's response.
Promotes healthy digestion & gut health: Proper digestion starts with proper enzymes; one of the important enzymes is Amylase - a digestive enzyme that helps break down digestive plaque (also known as biofilms). Plus, inulin from chicory root and apple pectin provides fiber that many kids lack in their diet and find it hard to achieve through food intake daily. The prebiotics only helps protect the gut but also feeds the healthy bacteria and fungi. Also included in this special formula is BIOHM FX 1 billion probiotic blend – the key species of bacteria and fungi that promotes health, supports a strong digestive system, and maintains a balanced gut microbiome.
14 different superfoods that include red, blue, purple, red, orange fruits & vegetables:
Tart Cherry
Beet
Acai
Pomegranate
Raspberry
Blueberry
Carrot
Grape Seed Extract
Strawberry
These clean superfoods naturally support many biological activities in the body that support: a balanced gut and help improve the immune system.
A super food rich drink as Super Kids can increase the nutrients' needs with just a drink - the best part is kids love the flavor.