Recipes
7 Plant-Based Diet Recipes For A Healthy Gut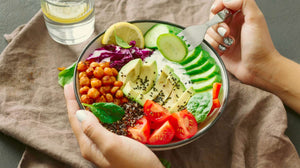 Work your way to a healthy gut with delicious and nutritious plant-based diet recipes.
RELATED: Meet Plantable: The Best Vegan Meal Plan Service
7 Plant-Based Diet Recipes: Healthy and Gut-Friendly Plant-Based Diet for Beginners
1. Chickpea and Aubergine Bites
These tasty bite-sized treats are great for your gut health and dinner party.
Ingredients:
3 large aubergines, halved and cut side score
Cooking spray
2 peeled garlic cloves
400g can of chickpeas
2 teaspoons coriander
1 lemon, half juiced and zested; the other half sliced into wedges for serving
2 teaspoons cumin seeds
3 tablespoons polenta
2 tablespoons gram flour
Polenta Definition:
An Italian dish made of boiled cornmeal.
Instructions:
Step 1: Preheat the Oven and Prepare Vegetables
Preheat the oven to 400°F. Coat the aubergines in cooking spray, then place them with the cut side up in a roasting pan. Put garlic, cumin seeds, and coriander, and roast for 40 minutes until the aubergines become tender. Set aside to cool.
Step 2: Mash the Vegetables
Scoop out the aubergine flesh into a bowl. Discard the skins. Scrape the garlic and spices into the bowl with aubergines. Add chickpeas, lemon juice, zest, and flour, then mash together. Season accordingly. Place the mixture in the fridge for an hour to firm up.
Step 3: Shape and Bake
Shape the mixture into 20 balls. Roll them in the polenta for an even coating before placing them on a baking tray lined with parchment paper. Place them in the oven and roast for 20 minutes. They should come out golden and crisp. Serve with lemon wedges and your choice of yogurt dip.
2. Mexican Avocado and Beans on Toast
The Mexican flavors of this dish will be a vibrant start to your day. Elevated beans on toast, plus all the
prebiotic benefits
.
Ingredients:
270g cherry tomatoes, quartered
1 onion (red or white) chopped finely
Juice of half a lime
4 Tbsp olive oil
2 crushed garlic cloves
1 teaspoon ground/powdered cumin
2 teaspoons chipotle paste/1 tsp chili flakes
2 400g cans of black beans, drained
A handful of chopped coriander
4 slices of wholegrain bread
1 avocado, sliced
Instructions:
Step 1: Make the Tomato Mixture
Mix lime juice, tomatoes, 1 tablespoon oil, and 1/4 of the chopped onions in a bowl. Set aside.
Step 2: Cook Ingredients
Fry the remainder of the chopped onions in 2 tablespoons of the oil until it softens. Add garlic, and fry for 1 minute before adding the chipotle and cumin. After the aromatics become fragrant, add the beans with a splash of water. Stir and cook until the mixture is heated through. Add half of the tomato mixture and cook for 1 minute. Add most of the coriander leaves, but leave some for garnishing.
Step 3: Toast Bread and Add Toppings
Toast the bread. Place avocado slices and beans on top, as well as the remaining tomato mixture, oil, and coriander leaves.
3. Chickpea Curry
This chickpea curry is flavorful, filling, and is among the easiest plant-based diet recipes to make.
Ingredients:
1 diced onion
2 tablespoons oil
1 teaspoon fresh/dried chili
9 peeled garlic cloves
Thumb-sized ginger, peeled
1

tablespoon

 ground coriander
2 

tablespoons

ground cumin
1

tablespoons

garam masala
2

tablespoons

tomato puree
2 400g cans of drained chickpeas
400g canned tomatoes
100g coconut cream
A handful of coriander, chopped
100g spinach
Instructions:
Step 1: Make Curry Paste
Heat 2
tablespoons
of oil in a frying pan. Add the diced onion and chili and cook until everything is soft, for around 8 minutes. Combine the garlic, ginger, oil, cumin, garam masala, coriander, tomato puree, salt, and fried onions in a food processor. Blend until smooth paste forms. Add a drop of water if the paste is too thick.
Step 2: Cook the Curry
Cook the paste in a saucepan over medium-high heat for 2 minutes. Stir occasionally to avoid the paste sticking to the bottom. Add the chickpeas and chopped tomatoes. Simmer for 5 minutes until mixture reduces.
Step 3: Add Cream Before Serving
Add coconut cream and cook the mixture for another 5 minutes. Sprinkle in half of the coriander and spinach, stirring until vegetables wilt. Add the remaining coriander as a garnish before serving.
4. Black Bean Chili
Nothing satisfies like a bowl of warm chili. And yet, nothing
satisfies both your appetite
and gut flora like this black bean chili!
Ingredients:
2

tablespoons

 

olive oil
4 garlic cloves, chopped finely
2 large onions, roughly chopped
3

tablespoons

 

sweet Spanish paprika, or chili powder of choice
2

tablespoons

 

brown sugar
3 tablespoons ground cumin
2 400g cans of chopped tomatoes
3

tablespoons

 

cider vinegar
2 400g cans of black beans, rinsed and drained
Your choice of chopped spring onions, crumbled feta cheese, thinly sliced radishes, avocado chunks, or sour cream to serve with the chili
Instructions:
Step 1: Cook Aromatics and Sauce
Heat olive oil in a large pot. Fry onions and garlic for 5 minutes. Add the chili powder and cumin. Cook for a few minutes before adding sugar, vinegar, and tomatoes. Season and cook for 10 more minutes.
Step 2: Cook the Beans and Serve
Pour the beans into the sauce and cook for 10 minutes. Serve with your choice of accompaniments.
RELATED: Is The Whole30 Diet Really Healthy?
5. Roasted Brussels Sprouts with Apples and Chestnuts
This meal looks fancy, but it's the contrary!
Ingredients:
2

tablespoons

 

melted vegan butter/2

tablespoons

 

non-dairy milk
1

tablespoon 

avocado oil
2

tablespoons

 

coconut sugar
1/2 cup apple cider vinegar
2 cups Brussels sprouts
1

tablespoon 

olive oil
2 garlic cloves
1/2 cup cranberries
2 Granny Smith apples
1/2 cup peeled/roasted chestnuts
Instructions:
Step 1: Preheat Oven and Make Sauce
Preheat your oven to 400°F. Stir together melted vegan butter/non-dairy milk, avocado oil, apple cider vinegar, and coconut sugar to make the sauce.
Step 2: Saute Vegetables
In an oven-safe dish, saute the onion and garlic in olive oil until soft and translucent. Add the Brussels sprouts and sauce mixture.
Step 3: Roast the Vegetables
Place the dish with onion, garlic, and Brussels sprouts in the oven for 30 minutes. Take it out, and toss the vegetables with tongs for even cooking.
Step 4: Add Fruits and Nuts, Then Broil
Take the Brussels sprouts out, add the chestnuts, apples, and cranberries. Stir them together. Change the oven setting to broil. Broil for 5 minutes. Stir the mixture at 3-minute intervals until the liquid soaks up. Serve.
6. Mega Lentil Burger Patty
Veggie burgers are hit-and-miss. But this plant-based diet recipe does not miss!
Ingredients:
1 cup cooked brown rice
3/4 cup coarse cornmeal
1 3/4 cups cooked lentils
3

tablespoons

 

flax meal
1 cup sweet potato with skins, chopped
2 cloves of garlic
1/2 cup chopped walnuts
2 teaspoons sea salt
1/3 cup tomato paste/ketchup
1

tablespoon 

Dijon/yellow mustard
1/4 teaspoon cayenne pepper/black pepper
Instructions:
Step 1: Preheat Oven
Preheat oven to 450°F. Line a baking sheet with parchment paper, or lightly grease with oil.
Step 2: Combine Ingredients
Combine garlic, onions, sweet potato, and walnuts in a food processor. Process until it forms a fine consistency. Add cooked lentils and rice into the mixture and process again. Scrape down sides whenever necessary. Transfer mixture to a large bowl and add the ketchup/tomato paste, flax meal, mustard, pepper, and salt. Stir everything well. Add the cornmeal last to thicken the mixture to a workable consistency.
Step 3: Form Patties and Bake
Create palm-sized patties with the mixture. Smaller ones bake better and break apart much less than bigger patties. Place the patties on the baking sheet. Make sure they are evenly separated so they don't stick together when it's time for flipping. Bake for 15-20 minutes before flipping each patty. Bake for another 15-20 minutes until both sides are browned and crisped evenly.
Step 4: Serve
Serve on its own with a side of salad and plant-based gravy, or sandwiched between a classic bun and sides.
7. Coconut Yogurt
Yogurt is a tasty treat
that is full of probiotics. Did you know there's a plant-based option? This recipe for yogurt uses coconut milk and
probiotic capsules
!
Ingredients:
1 can coconut milk
4 probiotic capsules
Instructions:
Step 1: Prepare and Mix
Pour coconut milk into a sterilized glass jar. Break apart the probiotic capsule, pour contents into coconut milk, and stir thoroughly.
Step 2: Cover and Rest
Cover the jar with a cheesecloth, and secure in place with a rubber band. Leave the mixture to rest for 24-48 hours in a quiet area where it can't be disturbed. The longer it rests, the thicker the yogurt gets!
Step 3: Refrigerate
After the resting period, replace the cheesecloth with the jar's sterilized lid. Place the jar into the refrigerator to chill and set for 30 minutes before consumption.
Here's an easy and simple BIOHM avocado egg boats recipe from BIOHM Health:
Keep your gut and the environment healthy with these plant-based diet recipes. Meats are delicious, but plant-based food options are also a wonderful world of flavor.
What's your favorite gut-friendly plant-based food? Let us know in the comments section below! Up Next: