Recipes
Avocado Green Smoothie Bowl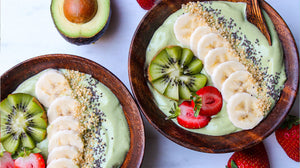 Nothing says Spring like a refreshing smoothie bowl to satisfy that sweet tooth while receiving all the healthy goodness your body craves.
RELATED: Super Greens In this article:
Smoothie Bowl to Add to Your Routine
This smoothie bowl will deliver an excellent source of vitamin C, antioxidants, and fiber—all things your microbiome needs to thrive. Throw in a scoop of BIOHM Super Greens and you're, not only enhancing the taste, but adding powerhouse ingredients that will promote exceptional gut health with the added benefits of digestive enzymes, prebiotics, and probiotics to keep your gut in optimal condition.
Double the ingredients and share this satisfying smoothie bowl with a friend on a hot afternoon!
Ingredients
1 frozen banana
1 avocado
1 scoop BIOHM Super Greens
½ cup almond milk
1 teaspoon honey
1 handful spinach
Toppings:
Banana slices
Kiwi
Chia seeds
Krispies
Sliced strawberries
Instructions
Blend all smoothie bowl ingredients together until smooth. Top with toppings and enjoy!