Recipes
Barbacoa Bowl with Cauliflower Rice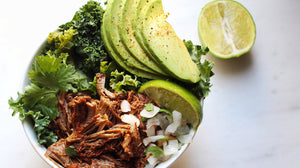 Healthy twist for lunch! Barbacoa bowls with cauliflower rice are filling and delicious (plus who doesn't love an excuse for avocado in any meal)!
Ingredients:
Makes 2 Bowls
1 ½ lbs. beef chuck roast
1 tsp olive oil
1 medium onion, diced (save extra for toppings)
2 limes, juiced
2 tablespoons apple cider vinegar
1 tablespoon tomato paste
½ teaspoon cumin powder
½ teaspoon chipotle powder
1 teaspoon salt
3 cups kale
1 avocado, sliced
Fresh cilantro
1 lime for topping
Instructions:
In a skillet, heat oil and brown beef until cooked through, set aside. Add onion and sauté until soft. Add lime juice, apple cider vinegar, tomato paste, cumin, chipotle powder and salt. Stir and bring to a simmer.
Add beef and pull apart with a fork. Cover and simmer in sauce on low for 20 minutes. Make bowls by adding kale and topping with barbacoa, onions, cilantro, and avocado.
Drizzle with lime juice and enjoy!