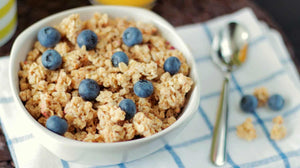 This breakfast bowl is full of everything the body needs. From rich antioxidants to the probiotic formula in our Super Greens powder, you can indulge in this guilt-free treat.
RELATED: California Sushi Bowls with Brown Rice In this article:
A Breakfast Bowl Recipe You Should Try at Home
Ingredients
3 cups rolled oats
1 1/2 cup crushed almonds
1/4 cup brown sugar
2 tablespoons melted coconut oil
1/4 cup + 1 tablespoon real maple syrup
2 teaspoons vanilla extract
Big pinch of salt
1 cup dried blueberries
2 scoops BIOHM Super Greens Probiotic Powder
Instructions
Preheat oven to 350°F.
In a large bowl, combine oats, nuts, and brown sugar.
In a separate bowl, combine oil, maple syrup, vanilla, and salt. Pour over oat mixture and toss to coat.
Spread mixture out onto 2 baking sheets and bake for 20 minutes.
Remove from oven and scrape mixture into a large bowl. Let it cool for a few minutes.
Sprinkle BIOHM Super Greens Probiotic Powder over the mixture and toss to combine.
Add in dried blueberries and toss to combine.
Serve with cold almond milk and enjoy!
What's Unique About This Breakfast Bowl Recipe?
First of all, our recipe contains BIOHM Super Greens Probiotic Powder, a powdered supplement packed with probiotics and super greens, such as wheatgrass, spinach, broccoli, and parsley. It has a formula that combines herbal extracts, fruits, and vegetables with enzymes, prebiotics, and probiotics, which are essential chemicals in the body. To better understand the health benefits our powdered supplement can offer, let's discuss what's in it.
Enzymes
What are enzymes? Enzymes, the specialized proteins in the body, are responsible for speeding up the body's chemical reaction rate taking place in the cells. They play a major role in the body's metabolism and digestion. Some enzymes aid in the breakdown of large molecules into small ones, so the body can easily absorb them. Other enzymes work by binding two molecules together to create another molecule.
Prebiotics
Prebiotics are nutrients not digested by our body. Good bacteria that thrive in the stomach use them as a
source of energy
, providing a healthy bacterial influence in the intestine that the body can benefit from.
One study on colorectal cancer
revealed that people who regularly eat fruits and vegetables, in which prebiotics are mostly present, have a lower risk of developing the disease.
Probiotics
Probiotics are beneficial microorganisms in the gastrointestinal (GI) tract with different strains that provide various health benefits. They conquer bad organisms, like digestive plaque, in the GI tract to reduce risks of diseases and infection. These beneficial organisms also help regulate immune responses to improve healthy reactions to organisms that promote infection and aid in suppressing inflammation.
Fruits
Fruits are naturally rich in essential vitamins and minerals, but there's one nutrient many of the fruits contain: fiber. Fiber plays a crucial role in bowel movements.
Vegetables
Like fruits, vegetables are also high in essential vitamins and nutrients. Wheatgrass, for example, has high amounts of enzymes that help to break down food and absorb the nutrients. It also has a detox effect that cleanses the stomach, reducing the risk of experiencing abdominal discomfort, bloating, and gas. Spinach is rich in water and fiber which both help promote healthy digestion and prevent constipation.
RELATED: Veggie Burrito Bowl
Why Is It Important to Have Breakfast?
Eating breakfast or digging into your breakfast bowl breaks the fasting period you had the night before, allowing you to replenish the glucose supply for energy and provide nutrients that help you make it through the day healthily. The overnight fasting makes your glycogen, the glucose stored in the liver and muscle tissue, supply low. Once your body consumes this glycogen supply, it starts to use fatty acids for energy. But without carbs, where you get your glucose, fatty acids are not completely oxidized, leading to reduced energy levels. Eating breakfast can also help you start your day healthily and feeling energized. This will allow you to have a productive day.
What Other Healthy and Nutritious Foods Can You Add to Your Breakfast Bowl?
Aside from the breakfast bowl recipe we presented here, you can always have it your way and continue to experiment with a hearty breakfast. Don't forget to mix in BIOHM Super Greens Probiotic Powder to further boost the digestive benefits of your first meal of the day. The following are the list of foods good for your digestive health:
1. Peppermint Oil
Peppermint oil is extracted from the leaves of the peppermint plant with the potential to help people with digestive issues. The oil contains menthol, a compound that can help relieve the symptoms of
bowel movement issues
, stomach discomfort, and bloating as it relaxes the muscles of the GI tract. It also helps relieve indigestion as it accelerates the movement of food in the stomach through the digestive system. If you love chocolate, you can make
this choco mint smoothie
at home that's not only great for breakfast but also for pre-workout or dessert.
2. Salmon
Salmon is a popular source of omega-3 fatty acids that can aid in reducing inflammation levels in the body. It's a recommended choice for those with food intolerances and inflammatory bowel disease. You can prep a
salmon breakfast bowl recipe
with avocado, tomatoes, and scrambled eggs for your breakfast bowl.
3. Bone Broth
By simmering the animal bones, glycine and glutamine may be extracted. These compounds aid in binding fluid in the GI tract, allowing food to go through the stomach easily You can try
this bone broth soup
in a breakfast bowl to warm up your day.
4. Sauerkraut
This probiotic-rich veggie is made from the fermentation of shredded cabbage.
Research shows
that a 71-gram serving or half a cup of sauerkraut has up to 28 bacterial strains that can help with
gut health
. You can try eating a
sauerkraut avocado boat
for breakfast.
5. Natto
Natto is made from the fermentation of soybeans, and it is commonly eaten plain. A gram of natto already has loads of probiotics. You can incorporate it in this
easy breakfast bowl recipe
.
6. Dark Green Vegetables
Leafy greens contain high levels of insoluble fiber which adds bulk to the stool for easy passage. These veggies are also rich in magnesium which aids in relieving constipation by enhancing muscle contractions in the GI tract. Broccoli, Brussels sprouts, and spinach are some of the common leafy greens you can eat for a power breakfast. Or you can try this veggie breakfast bowl recipe.
7. Kimchi
Kimchi is another type of fermented cabbage that is packed with probiotics promoting healthy digestion and good bacteria growth. The longer it ferments, the higher the concentration of probiotics. You can try this
healthy kimchi breakfast bowl recipe
with brown rice, kale, cauliflower, green beans, and other fresh veggies.
8. Papaya
Papaya contains papain, a digestive enzyme which supports the breaking down of protein fibers. The enzyme also has the potential to ease irritable bowel syndrome symptoms like bloating and constipation. You can use papaya in this simple and quick breakfast bowl recipe.   Make it a habit to eat a healthy and hearty breakfast. You can meal prep your breakfast bowls for when you need to rush in the morning. Boost your recipes' digestive power with BIOHM supplements.
How do you like our breakfast bowl recipe? What other recipes can you share with us? Tell us in the comments section below. Up Next:
Editor's Note: This post was originally published on May 21, 2018, and has been updated for quality and relevancy.