Recipes
Breakfast Yogurt Cups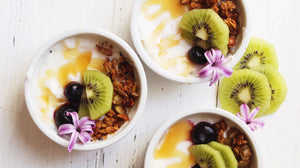 Level up your breakfast routine! Not only are these nutritious and delicious, but they are also gut-friendly and really easy to add into those crazy morning routines.
Ingredients:
2 cups plain yogurt
1 tablespoon honey
Paleo-approved granola or using traditional oats ok
1 kiwi, skinned and sliced
Blueberries
Instructions:
Add yogurt to 3 ramekins, drizzle with honey and sprinkle with granola. Add fruit and enjoy!