Recipes
California Sushi Bowls with Brown Rice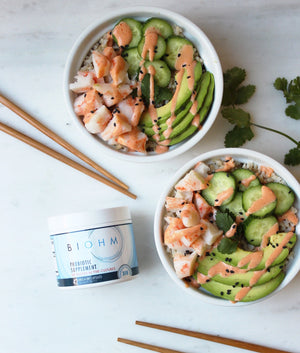 Here's a simple savory bowl that tastes like your favorite sushi. Pairing lobster (real or imitation) with Persian cucumbers, and avocado you have a well-balanced meal you can take with you on the go!
Ingredients:
1 cup long grain brown rice
1 packet imitation lobster (Alaskan pollock) or real lobster!
1 Persian cucumber, sliced
1 avocado sliced
Black sesame seeds
Salt and pepper, to taste
Coconut sriracha sauce:
¼ cup coconut cream
1 tablespoon sriracha
Juice from 1 lime
1 teaspoon salt
Instructions:
Cook rice according to package directions or in a rice cooker. Add to two bowls then top with cucumbers, avocado and lobster. Sprinkle with black sesame seeds, salt and pepper and drizzle with sriracha sauce.