Recipes
Cauliflower "Steaks" with Cilantro Lime Dressing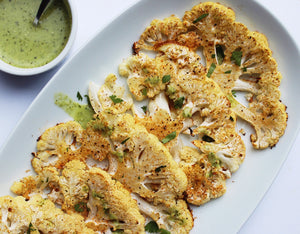 Looking for gut-friendly dinner options to switch up from those same-old recipes? Try this one that incorporates cauliflower and a cilantro lime dressing!
Ingredients:
1 head cauliflower
1 egg
1 ½ teaspoon salt
½ teaspoon black pepper
½ teaspoon paprika
¼ cup cilantro, chopped
Cilantro Dressing
½ cup cilantro, chopped
Juice of 1 lime
Zest of 1 lime
1 tablespoon olive oil
½ tablespoon apple cider vinegar
Pinch of salt
Instructions:
Preheat oven to 375F. Trim stem on cauliflower (not too short or florets will fall off). Cut long "steaks" about 1 inch thick and place on a baking sheet. Whisk egg in a bowl and brush onto each cauliflower steak. Sprinkle with salt, pepper and paprika.
Roast for 15-20 minutes or until edges begin to brown and cauliflower is soft. Remove from oven and place on a platter. Sprinkle with fresh cilantro. Blend all dressing ingredients in a blender or food processor. Serve with cauliflower and enjoy!