Recipes
Chile Verde Coconut Soup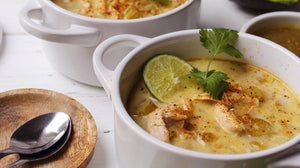 Hearty and gut healthy, this soup is a great addition to your recipe book!
Ingredients:
1 lb. skinless boneless chicken breasts
1 tablespoon olive oil
2 teaspoons ground cumin
½ teaspoon ground coriander
2 teaspoons dried oregano
½ teaspoon paprika
½ teaspoon red pepper flakes
3 stalks celery, chopped
1 medium onion, diced
2 garlic cloves, minced
1 can (4 oz.) green chiles, chopped
¼ cup salsa verde (organic and using only paleo approved ingredients)
4 cups homemade chicken broth
¼ cup full fat coconut milk
½ lime, juiced
chopped fresh cilantro, for serving
salt, black pepper to taste
Instructions:
In a slow cooker place the chicken, olive oil, ground cumin, ground coriander, dried oregano, paprika, red pepper flakes, celery, onion, garlic, green chilies, salsa verde and chicken stock.
Toss to combine. Season with salt and black pepper to taste. Cover with a lid and cook on low for 6 hours or until the chicken is cooked through. Remove the chicken and shred it into bite-size pieces with two forks. Return the chicken to the slow cooker along with coconut milk.
Stir to combine. Continue to cook until the chili has thickened, another 30 minutes. Add the lime juice and mix to combine. Taste and season with salt and pepper as needed. Ladle into bowls, serve with extra lime and cilantro and enjoy!