Recipes
Frozen Cranberry Bars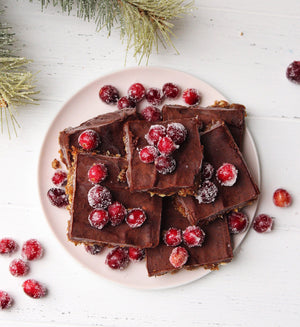 Only a few ingredients and you can have these refreshing cranberry chocolate bars. The crust is made from all raw ingredients and the top layer is chocolate yogurt. Just add your sugared cranberries and voila!
Ingredients:
Crust:
1 cup pitted dates
½ cup sliced almonds
¼ cup peanut butter
1 tablespoon honey
1 teaspoon chia seeds
Topping:
1½ cups chocolate yogurt
Sugared cranberries
Instructions:
In a food processor, blend dated, almonds, peanut butter, honey and chia seeds until finely grounded and sticking together. Press into a small baking dish covered with parchment paper. Spread yogurt on top in an even layer. Place in the freezer for an hour. Remove from the freezer and cut into squares. Top with sugared cranberries.