Recipes
Green and Red Wellness Shots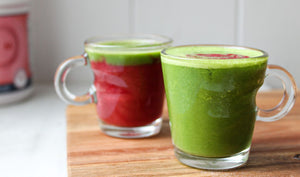 Looking for an easy recipe for that afternoon pick-me-up? BIOHM Green and Red Wellness Shots might be just what you need!
By combining our two best-selling products that contain 31 super greens + 17 super reds + probiotics + prebiotics + digestive enzymes, into a quick and on-the-go drink, makes this the ultimate super foods recipe!
RELATED: Super Foods In this article:
Wellness Shots For Your Gut
Wellness shots are condensed and concentrated cold-pressed juices designed to boost immunity, give you a jolt of plant-based energy, or naturally rev your metabolism.
After a wellness hit, you may feel energized, and that nutrient dose could be satisfying a craving for a sweet treat or even deter you from a processed snack or sugary beverage you may have otherwise reached for.
We've created a recipe for a quick DIY recipe featuring BIOHM Super Greens and Super Reds.
Ingredients
Green Shots:
Red Shots:
Instructions
Blend each color separately. Pour in small cups or mix the two for a double!