Recipes
Gut Cleansing Orange Carrot Juice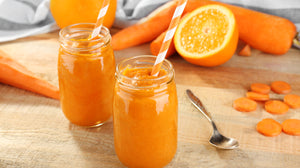 We all know by now that oranges are packed with vitamin C, but did you know they also contain fibers that feed healthy bacteria in the gut?
Did you know carrots help eliminate the bad bacteria? Combining these two powerhouse ingredients along with the colon cleanse supplement, you can press the RESET button on your bowels by following this simple recipe.
Ingredients:
2 navel or cara cara oranges, peeled and de-seeded
1 handful of kumquats, de-seeded (or an extra orange)
2 carrots, peeled and cut in half
1 tablespoon honey
1 teaspoon turmeric powder
Contents of 2 capsules of BIOHM's Colon Cleanser
Crushed pecans
Goji berries  
Instructions:
Add peeled oranges, kumquats, carrots, honey, turmeric and contents of colon cleaner into a blender. Pulse until well blended. Use a sieve if desired to remove pulp and serve in two glasses. Top with crushed nuts and goji berries. Enjoy!