Recipes
Gut-Friendly Chicken Wraps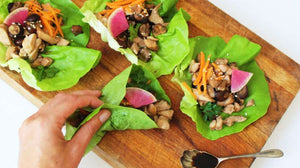 Being stuck at home doesn't mean you have to be stuck with the same boring meals, instead spice things up a bit with some gut-friendly chicken wraps that will make your gut, and you, happy!
Chicken is a source of lean protein, which helps the body to repair itself. Chicken also provides a range of minerals and B vitamins. Chicken tends to be easy to digest. It also contains no fiber, making it a good choice for people with digestive issues, such as IBS.
Butter lettuce is low in sodium, is a good source of vitamin A (70 percent of your daily requirement!), and contains small amounts of iron and calcium. ​By combining these two gut-friendly foods, among others, you can indulge and feel good doing it.
Check out our take on gut-friendly chicken wraps!
Ingredients:
Organic butter lettuce, 4 pieces
½ tablespoon coconut oil
1 garlic clove, minced
1 lb roasted chicken, cut into small pieces (*or you can substitute with turkey instead)
½ cup baby Bella mushrooms, roughly chopped
1 tablespoon coconut aminos
Shredded carrots, thin
Watermelon radish, sliced thin, for garnish
Sesame seeds
Salt and pepper, to taste
Instructions:
In a saucepan, heat oil over low to medium heat. Add minced garlic and sauté until fragrant. Add chicken and mushrooms and cook until mushrooms are soft and chicken is cooked through. Pour in coconut aminos and toss gently, mixing everything together evenly.
Remove pan from heat and add mixture to your butter lettuce wraps. Add carrots and radishes on top and sprinkle with sesame seeds.  Season with salt and pepper to taste. Enjoy!
Looking for more gut-friendly meals, find them here:
https://www.biohmhealth.com/blogs/recipes