Recipes
Gut Healing Berry Smoothie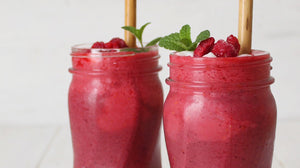 There is nothing sweeter and more refreshing than a smoothie made with berries! Plus, these ingredients are perfect for the gut & pair well with our delicious probiotic powders!
Ingredients:
1 cup coconut yogurt
1 cup frozen raspberries
¼ cup frozen blueberries
¼ cup frozen strawberries
½ banana, unripe
Instructions:
Blend all ingredients in a blender, pour into glasses and enjoy.