Recipes
Gut Healthy Probiotic Breakfast Granola Bar Recipe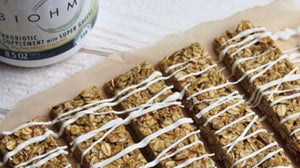 Breakfast on the go just got that bit easier. This granola probiotic bar recipe boasts wonderful health benefits. Together with BIOHM Super Greens, is probiotics, prebiotics, greens, protein, and vitamins all in one! What more could you ask for from a granola bar recipe perfect for batch prepping?
If you are struggling to get your dose of prebiotics and probiotic cultures, this recipe is the one for you. Keep reading to find out just how our granola probiotic bar recipe is customizable too! We will be showing you how to make our recipes that has something for everyone. Whether you want a simple granola bar recipe or something a little extra, give it a try! We will even show you how to transform our simple granola recipe into a nutritious green granola bar with matcha green tea.
RELATED: Super Green Milkshake
In this article:
Homemade Granola Bar Recipe Your Tummy Will Love
No-Bake Granola Bars Using Gut-Friendly Ingredients
With this homemade granola and green granola bars, you will not have to worry about getting enough prebiotics and probiotic foods for breakfast. Our recipes are perfect for planning ahead, for anyone who leads a busy lifestyle. You can make our granola bars ahead of time and store them in the fridge. Ready when you are, you can choose to snack on the granola bars or keep them for breakfast or lunch.
Our recipes are both packed with nut protein, from both contain peanut and almonds. To go perfectly and complement the peanuts, we highly recommend the white chocolate drizzle on top of our granola oats bar. Although, feel free to opt for dark chocolate if that is your favorite. Plus, dark chocolate will provide you with added health benefits too!
Here's how you can make this homemade granola bar recipe:
Ingredients
1 cup rolled oats
1/4 cup sliced almonds
1/2 cup peanut butter
1/4 cup honey
1 tsp salt
1 tbsp maple syrup
1-2 scoops BIOHM Super Greens Probiotic Powder
White Chocolate Chips
RELATED: Super Greens Bagel Spread
Instructions
Add peanut butter for nut protein and honey to a medium bowl and microwave for 20 seconds until melted.
In a large bowl, add rolled oats, sliced almonds, salt, and maple syrup. Combine the dry ingredients well.
Line a baking dish with parchment paper or baking sheet, then scoop granola mixture into the dish and flatten to form a rectangle.
Once you're satisfied with how thick your vegan granola bar should be, place the mixture in the freezer to set.
To make the white chocolate drizzle,melt white chocolate chips in the microwave for 15 seconds at a time until you can stir it and it stays smooth.
Scoop the white chocolate mixture into a plastic ziplock bag and cut a hole in the corner.7. One the granola is set, remove from the freezer and cut into rectangles or bars.
Drizzle with white chocolate as desired.
If you won't be consuming the granola bars just yet, store in the freezer to hold their shape. You can also keep them in an air-tight container.
Know more about BIOHM Super Greens in this video from BIOHM Health: 
Do you want more filling for your granola probiotic oats bar? You can add in almost anything that you can think of. From adding cranberries, coconut flakes, dried cherries, and even chia seeds, the choice is yours! Depending on your preference and nutritional needs, you can select a variety of foods to add to the recipe. By maintaining a probiotic and prebiotic rich diet and a stress-free lifestyle, you'll be able to enjoy a healthy gut and overall wellness!
You can even check out WebMD's list of great granola bars, for some ready made bars for on the go snacking!
Customizable Green Granola Bar Recipes
As promised, our granola bar recipe is fully customizable. Green foods are so on trend because they boast many health benefits. So why not make a green granola bar? If you are looking for an even tastier and nutritious probiotic bar, then why not swap out a few of the ingredients.
Simple add in some matcha green tea for a twist on this classic recipe. For a breakfast green granola bar that boosts your metabolism and contains high amounts of antioxidants, add in some matcha green tea powder.
You could even add in some different dried fruits, dark chocolate chips, or nuts and seeds. Whatever you can think of, get creative, and make your own tasty breakfast treats.
Did you enjoy making this delicious probiotic-rich granola bar recipe? Share more recipes you know using BIOHM Super Greens in the comments section below! Up Next: 
Editor's Note: This post was originally published on April 3, 2019, and has been updated for quality and relevancy.