Recipes
How To Make Guilt-Free Keto Soft Pretzels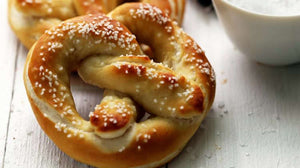 Enjoy delicious keto soft pretzels without an ounce of guilt with this recipe! RELATED: Quiche Bites
In this article:
Delicious Keto Soft Pretzel Recipe for Your Low-Carb Diet
Healthy Soft Pretzels Recipe
You don't have to worry about breaking your no or low-carb diet with this keto pretzel recipe. Instead of using all-purpose flour which contains a lot of carbohydrates, you can use almond flour. This ingredient is gluten-free and full of healthy fats.
Almond Flour Definition:
Flour that is made from ground blanched almonds. It is usually used as a substitute for wheat flour as does not contain gluten, thus it does not cause allergies or stomach irritation.
Keto Soft Pretzel Ingredients
2 cups almond flour
1 tablespoon baking powder
1 teaspoon garlic powder
1 teaspoon onion powder
3 large eggs
3 cups shredded mozzarella cheese
5 tablespoons cream cheese (optional)
Sea salt for pretzel topping
RELATED: Edible Vegan Chocolate Chip Cookie Dough
Keto Soft Pretzel Instructions
Preheat oven to 425 degrees F.
Line a baking sheet with parchment paper.
In a medium bowl, combine the almond flour, baking powder, and garlic and onion powder. Mix these ingredients well.
Crack one egg into a small bowl and whisk. This egg will be used for the keto soft pretzel's egg wash.
In a large bowl, combine mozzarella and cream cheese if you choose to use it. Microwave for 1 - 1.5 minutes and mix until well combined. If needed, microwave for an extra minute.
Add your almond flour mixture to the large bowl along with the two remaining eggs. Mix well. Tip: If you're having trouble with the dough, you can microwave it to soften the mixture or even add another pinch of almond flour.
Split the dough into 6 pieces. Then, roll each piece until they are in a thin breadstick-style shape.
Once they're thin enough, you can now fold each piece into a pretzel shape.
Brush each pretzel with the egg wash and sprinkle with sea salt.
Bake your keto soft pretzel for 12-14 minutes (until golden brown).
Enjoy!
After baking, you can also try this BIOHM Super Greens Triple Greens Almond Butter Smoothie from BIOHM Health: 
Being on a low-carb or keto diet doesn't mean you can't enjoy your favorite snacks anymore. Just substitute ingredients high in sugar and carbs with healthier options—opt for gluten-free milk like almond, soya, or coconut milk, instead of animal-produced dairy. You can also add macadamia nuts or walnuts for protein. Cheddar or mozzarella cheese adds the sodium you need. Make your keto diet more effective with a healthy gut. Support your digestion with natural and active probiotic cultures!
How do you make your keto recipes healthy? Share tips in the comments section below! Up Next:
Editor's Note: This post was originally published on April 26, 2018, and has been updated for quality and relevancy.