Recipes
Kale & Turkey Meatball Soup Recipe For A Healthier Gut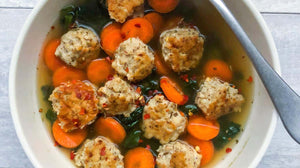 Warm yourself up and give your gut a little TLC with this Kale & Turkey Meatball soup!
RELATED: California Sushi Bowls with Brown Rice
In this article:
Hearty Kale and Turkey Meatball Soup for a Warm, Healthy Gut
How to Cook Turkey Meatballs and Kale in Bone Broth
Keep your stomach warm and happy with this turkey meatball and kale soup recipe you can easily make with some leftover turkey meat in your fridge.
Ingredients:
1/2 lb ground turkey
1 flax egg
1/4 cup almond flour (more or less to help with binding; you want the meat to be sticky, but easy to shape)
Bone broth for the soup
Olive oil
Contents of 1 BIOHM Probiotic Capsule (for a little extra gut TLC)
Instructions:
Mix ingredients in a medium bowl, and add preferred seasonings.
Sear in a medium saucepan in olive oil, but don't cook all the way through. The meat will continue to cook when simmering in the broth.
Simmer your favorite bone broth (we recommend BrothMasters) with minced garlic, salt and pepper, red pepper flakes, and Italian seasoning.
Once the broth is at a steady boil add carrots, 2 handfuls of chopped kale, and the turkey meatballs.
Reduce heat and simmer for 10 minutes. Enjoy!

How to Make Bone Broth
To understand the benefits of consuming bone broth, let's first find out what it is and how it's made. Bone broth is made from simmering the bones and connective tissues of animals for a long time. Any kind of animal can be used to make bone broth — beef, pork, veal, turkey, chicken, goat, fish, and more. You can follow various recipes to make bone broth but the most basic ingredients include a variety of animal bones (knuckles, hooves, joints, ligaments, etc.), water, apple cider vinegar, and some salt and pepper to taste. Garlic, thyme, fresh parsley, and other herbs can be added for flavor. Some people also add carrots, onions, and other spices. Follow these steps to make your own bone broth:
Combine the ingredients in a large pot on high heat until boiling. You can also use a slow cooker.
After it comes to a boil, simmer for 12-24 hours, to get the most nutrients out of the bones.
Once satisfied with the amount of simmering time, take the stock out of the heat and allow to cool.
Then strain the broth and get rid of the solids. You may then store the broth for soups or you can consume it as is.
Health Benefits of This Meatball Soup Recipe
Bone Broth Benefits
Animal bones, in general, contain calcium, potassium, phosphorus, and magnesium, among other minerals. The bone marrow is rich in omega-3 and omega-6 fatty acids, as well as vitamins A and K2 and minerals like manganese, iron, selenium, and boron. When collagen is boiled and broken down, it becomes the protein gelatin which is beneficial to joint health. Animal bones also contain various amino acids that can be beneficial to the gut.
Amino acids glycine
and arginine have strong
anti-inflammatory properties
. They help prevent chronic illnesses like diabetes, arthritis, and other metabolic problems. Although the preparation can take a long time, a huge batch can be stored and used at a later time. The good thing is, you can use it for cooking other dishes or you can consume it as is.
Turkey Health Benefits
Turkey meat is great for health and weight-watch diet as it's low in calories but packed with nutrients and antioxidants. It contains B-vitamins and selenium in abundance but offers magnesium, zinc, and potassium in smaller doses. While normal turkey meat contains vitamins and minerals, you can get maximum nutrients if you consume "pasture-raised" turkeys.
What is pasture-raised? Free-range turkeys which freely roam around to look for food. They have a diverse diet composed of a more natural food range. This kind of turkey meat contains more nutrients compared to those fed with supplements.
RELATED: Guilt-Free Keto Pigs in a Blanket
Kale Health Benefits
Kale is more than just a social media fad. This vegetable offers several health benefits that can help your gut health stay balanced. It's a member of the cruciferous family and is full of vitamins and minerals. One cup of kale can give you Vitamin A, B6, K, and C. It also contains minerals like copper, potassium, calcium, and magnesium, with low calories. High magnesium intake, alone, has been known to help with managing type 2 diabetes and other metabolic risks.
Aside from that, it carries omega-3 fatty acids, which is great for your cardiovascular health. It has a high beta-carotene content as well, which the body can convert to vitamin A and use for tissue repair. Other nutrients it contains in abundance include lutein and zeaxanthin, which are great for protecting the eyes. There have also been studies pertaining to the cancer-fighting properties of kale. It contains sulforaphane which studies show can potentially prevent the formation of cancer tumors at a molecular level. It also has indole-3-carbinol, another substance studied for cancer prevention. While some people may find eating kale too intimidating by itself, you can be innovative in including it in your diet. You can make a kale salad, kale soup, or add it in other dishes!  
Here are 9 reasons to choose probiotics in this video from BIOHM Health:
With healthy ingredients like turkey meat, bone broth, and kale, your stomach will love this tasty kale and turkey meatball soup! Make sure you have leftovers 'cause these turkey meatballs are a great snack for the next day! The added BIOHM Probiotic capsule will work wonders for your digestive health as well. It'll bring good bacteria and fungi to create balance from gut within. You can try other gut health supplements as well. Reach out to us at BIOHM for a gut test and wellness consultation.
Do you want to know more recipes for a healthier gut like this kale and turkey meatball soup recipe? Let us know in the comments section below! Up Next:
Editor's Note: This post was originally published on February 22, 2019, and has been updated for quality and relevancy.
Recipe by: @oh_so_zo