Recipes
Keto-Friendly: Baked Avocado Egg Boats Recipe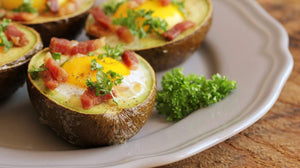 This baked avocado egg boat recipe is THE perfect keto friendly snack.
RELATED: Baked Apple With Pepita Super Green Granola In this article:
Avocado Egg Recipe for a Keto Friendly Treat
Avocado Egg Boats for a Delicious Keto Recipe
Cutting down on carbs? Don't fret. There are plenty of options for you! ...Like these delicious Avocado Egg Boats! Top them with bacon and red pepper, and it's the perfect snack or side dish for your favorite entrée. No need to worry about crashing your diet!
Ingredients
2 avocados
4 eggs
2 slices of bacon, cooked
Parsley
Salt
Pepper
Red Pepper Flakes
RELATED: Creamy Avocado Chickpea Salad
Instructions
Preheat oven at 400 degrees F.
Cut the fruit in half to make avocado boats. Remove the pit then, scoop out the avocado centers to give the egg yolk space.
One by one, crack each egg into a medium-sized bowl. Scoop out the egg yolk and drop it into the avocado hole.
Slowly add additional egg whites to fill in the center space, but don't overflow.
Set the baking dish and place the avocado egg boats.
Top with bacon, parsley, salt, pepper, and red pepper flakes for flavor.
Bake at 400 degrees F for 15-20 minutes or until the egg whites harden. You can take out the avocados in about 14 minutes if you prefer the yolk to be runny. For a more thoroughly cooked egg yolk, leave them in the oven for 18-20 minutes.
Tip: If avocado starts to brown, cover with aluminum foil.  
Watch these 9 reasons to choose BIOHM Whole Probiotics in this video from BIOHM Health: 
These baked avocado egg boats are perfect for snacks, as side dishes, and even for breakfast! Like avocado toast, it contains good fats and proteins needed for your keto diet and overall health.
What other avocado dishes do you know and like? Share your own keto-friendly avocado recipes in the comments section below. Up Next:
Editor's Note: This post was originally published on March 8, 2018, and has been updated for quality and relevancy.