Recipes
Keto Soft Pretzels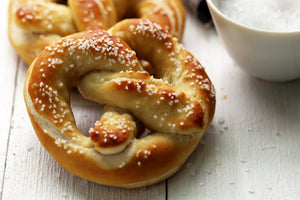 These low carb, keto-friendly soft pretzels are absolutely magical and so easy to make! 
Ingredients (Makes approximately 6 pretzels.) 

2 cups almond flour
1 tablespoon baking powder
1 teaspoon garlic powder
1 teaspoon onion powder
3 large eggs
3 cups shredded mozzarella cheese
5 tablespoons cream cheese (optional)
Sea salt for pretzel topping
Instructions

Preheat oven to 425
Line a baking sheet with parchment paper
In a medium bowl, combine the almond flour, baking powder, garlic powder and onion powder. Mix well. 
Crack one egg into a small bowl and whisk. This egg will be used for the pretzel's egg wash.
In a large bowl, combine mozzarella, and cream cheese if you choose to use it. Microwave for 1 - 1.5 minutes and mix until well combined. If needed, microwave for an extra minute. 
Add your almond flour mixture to the large bowl along with the two remaining eggs. Mix well. If you're having trouble with the dough, you can microwave it to soften the mixture or even add another pinch of almond flour. 
Split the dough into 6 pieces. Roll each piece until they are in a thin breadstick-style shape. Fold each piece into a pretzel shape.
Brush each pretzel with the egg wash and sprinkle with sea salt. 
Bake for 12-14 minutes (until golden brown). 
Enjoy!