Recipes
Mango Yogurt Tart Swirls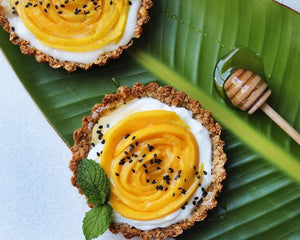 Ingredients:
Crust:
1 ½ cup rolled oats
½ cup sliced almonds
¼ cup coconut oil
¼ cup peanut butter
1 teaspoon cinnamon
1 teaspoon salt
1 tablespoon maple syrup
Filling:
Topping:
Sliced Mangoes
Black sesame seeds
Honey
Instructions:
Preheat oven to 375°. In a bowl, combine crust ingredients. Press into individual tart pans and bake for 15 minutes or until golden brown. Remove from oven and let cool. Top with yogurt and sliced mangoes.
To achieve the flower look, start from the outside using thin slices and overlap in a circle, ending in the middle. Alternatively Adding cubed mangoes on top still looks and tastes great! Add sesame seeds and drizzle the top with honey. Enjoy!