Recipes
Mashed Potato Cakes with Super Greens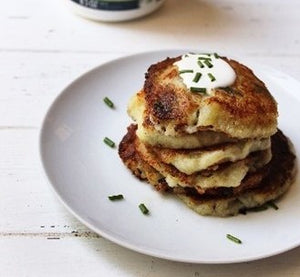 Who says mashed potatoes cannot be good for you and the gut? Try one of our newest recipes that incorporated BIOHM Super Greens into it!
Ingredients:
2 cups mashed potatoes
½ cup chopped spinach
1 teaspoon salt
1 egg
1 scoop

 

BIOHM Super Greens
¼ cup flour + ¼ cup flour for dusting
Yogurt or sour cream for topping
Chives, chopped
Instructions: 
Heat mashed potatoes on the stovetop and add salt, egg, super greens, and ¼ cup flour. Stir to mix. Place the remaining ¼ cup flour on a plate. Form balls with clean hands then flatten to disks. Place in the flour on both sides.
Add to a skillet heated with coconut oil. Cook both sides and serve with sour cream or yogurt topped with chives.