Recipes
Quick and Easy Peanut Butter Protein Balls For Everyday Snacks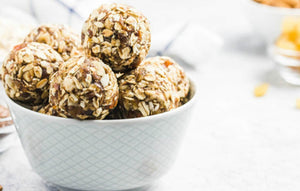 No need to worry about added sugar in your snack with this all-natural peanut butter balls recipe!
RELATED: Super Greens Bagel Spread In this article:
No Bake Peanut Butter Balls for Your Next Snack
How to Make Peanut Butter Balls Without the Guilt
You won't believe these have no refined sugar or complex carbs because the sweetness of the dates and peanut butter take center stage. You won't even need powdered sugar! Packed with spinach, almonds, and of course
BIOHM Super Greens
, you can enjoy these peanut butter
energy balls
in the morning and stay full until lunch! Here's how to make peanut butter balls that are healthy and delicious.
Ingredients
1 cup pitted dates
1/2 cup almonds
1/2 cup natural peanut butter
1/4 cup honey
1 tablespoon chia seeds
1/4 cup fresh spinach
Coconut oil, as needed
RELATED: Super Greens Breakfast Cookies
Instructions
Add all ingredients to your food processor. Pulse until mixture becomes crumbly, but still sticky.
Add a little coconut oil at a time, if needed.
Get a clump and shape into balls with your hands.
Put the peanut butter energy balls on a baking sheet or parchment paper.
Make sure the formed balls do not stick to each other.
Store in the refrigerator until ready to eat.
  These peanut butter energy balls are packed with protein. Add the probiotics, prebiotics, and enzymes from BIOHM Super Greens, and you have a deliciously healthy snack you can munch on between meals! Make several batches of these healthy peanut butter balls, refrigerate, and enjoy them for the whole week! You can even try changing the fruit ingredients or dipping them in melted keto-friendly chocolate to satisfy your sweet tooth.
Will you make these low-carb peanut butter balls for snack time? Tell us what you think in the comments section below! Up Next:
Editor's Note: This post was originally published on May 21, 2018, and has been updated for quality and relevancy.