Recipes
Raw Coconut Lime Bars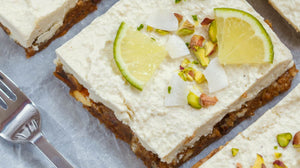 With this coconut lime bars recipe, you can indulge yourself in a delicious but healthy and gut-friendly treat for you and your family.
RELATED: Chocolate Superfood Brownies
In this article:
Make the Most of Coconut's Benefits with a Coconut Lime Bars Recipe
Here's an Easy Coconut Lime Bars Recipe
Today, you'll find dozens of videos that show you how to make a coconut lime bars recipe. But there's something different about this sweet recipe. These dairy-free coconut lime bars are packed with healthy fats (thank you, coconuts!), contain very little sugar, and are naturally sweetened with dates and coconut cream! It's even gluten-free, which makes it perfect for those with celiac disease or gluten intolerance and sensitivity.
What is gluten? It is a protein found in wheat that can induce digestive symptoms such as abdominal pain and bloating.
What is celiac disease? It is an autoimmune disease with symptoms triggered by the consumption of gluten. Yum! This coconut lime bars recipe is also a no-bake recipe. It doesn't need all-purpose flour or baking powder. It doesn't even require a lot of kitchen tools. You can do away with the food processor, wire rack, stand mixer, baking dish, or even a whisk. These lime squares are also excellent substitutes to lime curd bars, lime cheesecake, or coconut key lime pie, which is more complicated to make. Keep this dessert recipe on hand because it's a total crowd-pleaser.
Coconut Crust or Base Ingredients
1 cup pitted Medjool dates
1/2 cup shredded coconut
3/4 cup almonds
3 tablespoons coconut oil
1/2 teaspoon cinnamon
1 pinch of salt
Filling Ingredients
2 cups cashews soaked overnight in water
1/4 cup coconut oil
1 cup coconut cream
1 cup shredded coconut
2 limes juiced
1/4 cup maple syrup or brown rice syrup
To Garnish
Crushed pistachios
Lime slices
Grated lime rind
Coconut flakes
Instructions:
Line a square cake tin with baking paper and set aside.
Blend all base ingredients. Scoop out the mixture into a baking tray and press down with your fingers.
Place in the freezer for at least an hour or two until the crust hardens.
Remove the base. Blend all filling ingredients until creamy and pour onto the base.
Smooth over with the back of a spoon and place in the freezer for at least 4 hours (or overnight).
Take out of the freezer and cut into squares. Top with your garnishes and enjoy! (These taste great when they're served chilled!)
Tips:
If you want extra sweetness without the guilt, you can substitute the dates with a cup of tightly packed light brown sugar.
To add more of the coconut flavor, consider using coconut extract.
Go easy on the topping. Use powdered sugar and melted white chocolate sparingly.
To make sure all ingredients combine well, you can use a large bowl.
For the leftovers, you can store them in an airtight container and keep them cool.
Some people would like to take a shortcut by using cracker crumbs. You can do that as well, but you cannot maximize the benefits of coconut.
Use a squeezer to extract as much lime juice as you can.
This raw coconut lime bars recipe should show you that you don't need cream cheese, whipped cream, or a glaze to make any dessert decadent. You can stick with natural and healthy ingredients. Best of all, you can give yourself some coconut, which is really good for the body.
RELATED: Scrumptious Super Greens Waffles Recipe
The Health Benefits of Coconut
If you're looking for more reasons to consume this giant nut, then these health benefits may encourage you:
1. It Is a Good Source of Fat
To be clear, coconut is high in saturated fat. It can even have more fat than lard or butter. You still need to go easy on it, especially the coconut oil. Interestingly, it may also
increase your level of good cholesterol
. When consumed in moderation or occasionally such as in this coconut lime bars recipe, you are contributing to better heart health. Coconut oil is also a great option for cooking oil. It is solid in room temperature but can easily melt when exposed to high heat. The good thing is it is stable or doesn't undergo oxidation even when it reaches its melting point.
2. It Is Rich in Lauric Acid
In the coconut cream bars recipe, you use a significant amount of the nut. This makes it one of the lauric acid foods out there. The lauric acid in coconut oil doesn't work the same way as other types of fatty acids. While it goes straight to the liver, the organ doesn't store it as fat. Instead, it converts it into energy or fuel. It may be helpful when you want to increase your mental and physical alertness. Since it doesn't add to your fat storage, coconut is a popular food option for those in a low-carb or ketogenic diet. Another significant lauric acid benefit is its ability to fight certain types of pathogens such as Staphylococcus areus.
In a study in the Journal of Bacteriology, it was reported that this acid can inhibit the expression of virulence factors. In other words, it prevents its own genetic code from initializing protein synthesis that can make the virus or pathogen even more dangerous. Coconut may help promote a healthier gut by improving the diversity of the microorganisms and killing off the pathogens. Note, though, you can still maximize this benefit by adding BIOHM Probiotics or BIOHM Prebiotics into your diet. These will add more beneficial bacteria and fungi into your gut and even colon. This way, you'll have a more efficient digestive system.
3. It Helps Keep Your Teeth Healthy
Are you one of those who ask, "Is coconut oil antibacterial?" The answer is yes. Its lauric acid makes monolaurin, which is a common treatment against different types of infections like herpes, shingles, and flu. A 2012 research by Athlone Institute of Technology revealed its antibacterial properties can also extend to dental health. When they treated the coconut oil with enzymes, the substance significantly prevented the growth of Streptococcus bacteria that thrive in the mouth.
Here's BIOHM Avocado Egg Boats recipe from BIOHM Health: 
This raw coconut lime bars recipe can do more than satisfy your sweet tooth. It's also a smart way to take advantage of the many health benefits of coconut!
What do you like most about using coconut in your desserts? Share your thoughts in the comments section below!
Up Next:
Editor's Note: This post was originally published on February 28, 2018, and has been updated for quality and relevancy.