Recipes
Roasted Red Pepper and Tomato Soup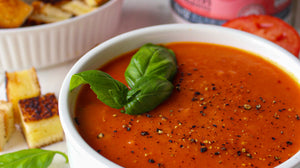 Switch up your weekly routine with a lite, yet satisfying soup in the late afternoon or early evening. They're a great way to get the nutrients your body needs without feeling sluggish or stuffed after you eat. This roasted red pepper and tomato soup is chock-full of vitamins and minerals that support immune function, while providing essential antioxidants. Red peppers alone are jammed with vitamins and minerals that help with your vision and skin health.
The sweetness of BIOHM Super Reds brings out the flavors of the other ingredients in this soup. Your body will crave the nutritious ingredients this soup offers. The garlic alone is full of medicinal properties.
This low-calorie, tasty soup will be your go-to when you're short on time and craving something warm on these cooler days. Trust us, it's going to hit the spot just right. Screenshot it, save it, and make it over and over again!
RELATED: Super Reds In this article:
Hearty Soup to Supercharge Your Gut
Add a hearty soup that not only tastes delicious but has all the ingredients you need to help you ward off the cold while keeping you hydrated. This low-calorie, rich in vitamins, minerals and antioxidants roasted red pepper and tomato soup is just what the season calls for.
Add BIOHM Super Reds to super-charge your gut with powerful probiotics, prebiotics, and digestive enzymes to balance your microbiome. And yes, serve yourself seconds. Enjoy!
Ingredients
2 tablespoons butter
1 yellow onion, diced
2 cloves garlic, minced
2 tablespoons flour
2-15oz can crushed tomatoes
1-12oz jar roasted red peppers (or 1 red pepper roasted)
2 cups vegetable both
1 scoop BIOHM Super Reds
½ cup nut milk
1 pinch dried basil
Salt and pepper, to taste
Fresh basil for garnish
Instructions
Add butter to a large stock pot over medium heat then add onion and garlic until onions are transparent. Add the flour to the pot and cook another minute.
Remove pot from heat the stir in crushed tomatoes and roasted red peppers.
Using an immersion blender, blend the soup until it reaches a smooth consistency. Stir in the vegetable broth and super reds powder. Bring to heat then stir in milk and seasonings. Serve warm!