Recipes
Scrumptious Super Greens Waffles Recipe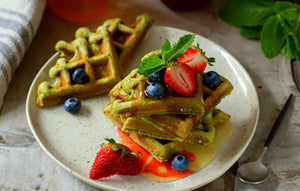 Believe us, this green waffles recipe tastes just as good as it looks. RELATED: Breakfast Bowl In this article:
Homemade Waffles Recipe You Won't Feel Guilty About Eating
Green Waffle Recipe for the Gut
If you're watching what you eat, waffles and pancakes may seem like a craving you can't fulfill. But thanks to this low-carb waffles recipe, you don't have to worry about breaking your diet. Unlike regular waffles, this healthy version is packed with probiotic and enzymes to fight off digestive plaque and keep your gut healthy. Plus, this easy waffles recipe tastes great, too!
Ingredients
2 cups almond flour
4 tsp baking powder
1/2 teaspoon salt
1/4 cup sugar
2 eggs
1/2 cup vegetable oil
2 cups almond milk
1 teaspoon vanilla
RELATED: How To Quit Sugar For A Healthier Microbiome
Instructions
Oil the waffle iron.
Sift all dry ingredients and combine them together in a large bowl.
In a separate bowl, mix together the wet ingredients: egg yolks, almond milk, oil and vanilla. Using a whisk or a spatula, stir slightly.
Add the wet mixture to the dry ingredients and mix well.
Fold in egg whites to the batter.
Cook in waffle iron on medium heat for 10-15 minutes.
Once done, take the waffles out and place on plates. Top with fresh pluots, pomegranate seeds, and blueberries.
Pour maple syrup over the waffles if needed.
Benefits of BIOHM Super Greens
Using whole foods ingredients helps you get a healthier breakfast and adding a gut-friendly probiotic only makes it better. Adding just a single scoop of BIOHM's Super Greens to your meal gives you nutrients from fruits, vegetables, and herbal extracts. This scientifically engineered formula is filled with powerful prebiotics, probiotics, and digestive enzymes to address total gut balance without ruining the taste of your food. It uses natural sweeteners with extracts from 31 organic plants so you don't have to worry about your blood glucose.
Other Ways to Make Your Stomach Happy in the Morning
Aside from watching what you eat in the morning, you should also jump start your day the right way. Down a glass of water upon waking up to warm up your organs and soothe the dehydration that has occurred while sleeping. Yoga and stretching will help you balance out your digestive tract as soon as you wake up in the morning. They stimulate muscles and improve blood circulation.
If you don't have a waffle iron, you can try making light and fluffy pancakes using this recipe for waffles. Enjoy your favorite breakfast without worrying about eating too much sugar. With BIOHM Super Greens, you can indulge in food without harming your stomach.
Will you try this green waffles recipe at home? Share your thoughts in the comments section below! Up Next:
Editor's Note: This post was originally published on May 21, 2018, and has been updated for quality and relevancy.