Recipes
White Chocolate Chip Cookies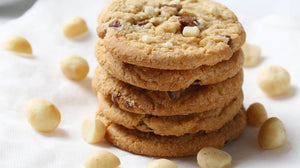 Indulge in guiltless white chocolate chip cookies on your next meal break with this recipe!
RELATED: Chocolate Superfood Brownies
In this article:
Gut-Friendly White Chocolate Chip Cookies Recipe for Dessert
Delicious Chocolate Chip Cookies Your Tummy Will Love
Committing to a healthier lifestyle doesn't mean you have to refuse sweets and dessert. That would be a tragedy! While
added sugar
and processed sweets can be harmful to your gut, you don't have to cut all kinds of sweets from your diet. By replacing certain ingredients with gut-friendly ones, you can enjoy your dessert without feeling guilty! Give your dessert a healthy makeover using
Super Greens Probiotic powder
infused inside the flourless dough. Each bite is filled with chewy cookie and melted white chocolate chips. Yummy & guilt-free!
Ingredients:
2 teaspoons vanilla extract
1 large egg
4 tablespoons dark brown sugar, lightly packed
1/2 cup coconut oil
1 1/2 cups oat flour (regular oats blended in a blender)
1/2 teaspoon baking soda
1 teaspoon cinnamon
1 1/2 scoops of BIOHM Probiotic Super Greens powder
Pinch of salt
1/2 cup white chocolate chips
Macadamia nuts (optional)
Instructions:
Take regular old fashioned oats or quick oats and blend them until they resemble a flour or powder in a blender or food processor. You will measure this after blending, not before.
Combine vanilla, egg, and brown sugar in a large bowl.
Melt coconut oil and let it cool before adding to the bowl. Mix until combined.
Stir in oat flour powder, baking soda, cinnamon, BIOHM Super Greens powder, and salt.
Slowly combine all ingredients. Fold in white chocolate chips.
Add macadamia nuts to the mixture in the large bowl if you want to add a little more crunch.
Chill dough for at least 45 minutes – 1 hour.
Roll dough into tightly packed balls and place on parchment-lined cookie sheet.
Add extra white chocolate chips, if desired!
Bake for 8-10 minutes, until the cookies are lightly browned around the edges.
Allow the cookies to cool for 5 minutes and ENJOY!

Oat Flour Benefits
By replacing all-purpose flour with oat flour, you're making your cookies gluten-free. Oat flour isn't a type of barley, wheat, or rye. It's easier to digest, lessening the stress on your stomach during digestion. There is also a significant improvement on the blood glucose levels of people suffering Type 2 Diabetes that were fed oatmeal in a controlled study.
RELATED: Healthy Toasted Oats
Effects of Gluten to the Gut
If you have gluten intolerance or sensitivity, then eating baked goods can be uncomfortable and even dangerous for you. But what exactly does gluten do to the gut? The protein peptides gliadin and glutenin make gluten sticky and ideal to use as a binder and filler for processed foods. It's also what keeps the nutrients in plants intact. If it holds the nutrients of grains, then why has it become a problem for the gut? Sadly, the hybridization of grains used for food has led to gut problems and intolerance. It makes the digestive system prone to inflammation which eventually develops into other forms of bowel issues.
Your body produces an enzyme (tissue transglutaminase or tTG) that breaks down gluten into gliadin and glutenin. For people with gluten intolerance, their gut immune system called the gut-associated lymphoid tissue (GALT) identifies gliadin as a harmful substance and attacks it. The GALT also attacks the tTG, creating havoc in your gut. Since the tTG is responsible for holding the microvilli in your intestine together, your body won't be able to absorb the nutrients you need from the food you eat.
What Are Microvilli? These are small bristle-like protrusions in the walls of organs and cells that help absorb nutrients and water.
How BIOHM Super Greens Can Help the Gut
With a formula made from fruits, vegetables, and 31 organic plant extracts, BIOHM Super Greens gives you a powerful blend of prebiotic fiber, probiotics, and digestive enzymes. Thanks to the good bacteria and fungi it contains, Super Greens can help break down digestive plaques to balance the digestive system. And it actually tastes great! You can use the powder for healthy smoothies or add it to baked goods like the recipe white chocolate chip cookies here!  
Understand who we are in this video from BIOHM Health:
Enjoy your dessert without your gut suffering for it. Try this recipe for white chocolate chip cookies when you want some sweets!
What other desserts do you want to make gluten-free? Share them with us in the comments section below! Up Next:
Editor's Note: This post was originally published on May 21, 2018, and has been updated for quality and relevancy.