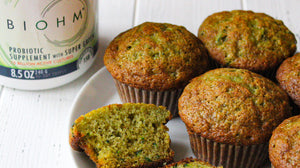 Enjoy a healthy and light morning breakfast zucchini muffin. Zucchini is packed with vitamins and minerals that contribute to healthy digestion. They're high in antioxidants that protect your body from free radicals. Plus, zucchini contains a high water content which helps soften stool.
RELATED: Super Greens In this article:
Adding Super Greens to Your Breakfast
Adding a scoop of Organic Super Greens that are rich in 31 powerful greens, pro, and prebiotics plus digestive enzymes to help break down digestive plaque is a winning combination.
These muffins are delicious, healthy, and filling. They'll soon become a staple recipe you're sure to memorize and make over and over again.
Try em' out!
Ingredients
1 ½ cups flour or gluten free flour
1 scoop BIOHM Super Greens Powder
½ cup coconut sugar
1 teaspoon ground cinnamon
½ teaspoon baking powder
½ teaspoon baking soda
½ teaspoon salt
2 eggs
½ cup oil
1 teaspoon vanilla
2 ¼ cups shredded zucchini
Instructions
Preheat oven to 350F. Add baking cup liners to cupcake tin and set aside. In a large bowl mix together flour, super greens, coconut sugar, cinnamon, baking powder, baking soda and salt. In a smaller bowl, whisk eggs, oil and vanilla together until smooth. Add wet ingredients in with the dry. Mixture will be thick. Stir in zucchini and mix until smooth. Fill cupcake liners ¾ full. Bake for 20-22 minutes or until cooked through.