Gut Health
7-Day Gut Cleanse Diet That Actually Works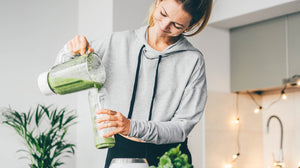 This 7-day gut cleanse diet will give your digestive system the reset it needs to work better.
RELATED: The Microbiome Diet: Benefits And Foods To Include
In this article:
The 7-Day Gut Cleanse Detox That Helps Reboot Your Digestion and Metabolism
Your Gut Cleanse Needs
You are less likely to fail or discontinue your gut cleanse diet or detox if you already have everything you need nearby. The only things you should focus on are yourself, the process, and healing. For this gut health cleanse, these will be your essentials:
Clean water and herbal teas
Fermented foods such as kefir, sauerkraut, kimchi, and miso
GMO-free, free-range chicken (if you're vegan or vegetarian, go for tofu and tempeh)
Seasonal fruits and vegetables (have a lot of these, especially the greens)
Healthy fats such as salmon, nuts, seeds, olive oil, and coconut oil
Sprouts
Dairy-free milk such as almond and coconut milk
Herbs and spices, especially ginger, garlic, and turmeric
Psyllium husk for more fiber
Apple cider vinegar, tamari, and coconut aminos
Super greens including BIOHM Super Greens
A Natural Colon Cleanse
As our body is constantly detoxifying by itself, there are many foods that we should be consuming to help our colon cleanse naturally. Our diet plays a vital role in how effective our liver and kidneys function in removing toxins. If you are considering cleansing your gut, your body is already doing just that! But the question is, how well?
While your body detoxifies itself, there are plenty of ways we can give our detoxification process a helping hand. If you have eaten a poor diet, then your body may be struggling to naturally cleanse. Here are a few ways to help boost your body's natural cleansing.
High-Fiber Foods
G fiber is important to consume during your 7 day gut cleanse diet. It helps by regulating constipation, giving good bacteria a boost, and easing overactive bowels.
Eating high-fiber foods can help promote a healthy colon while helping gut bacteria. G fiber can be found in many foods such as fruits, vegetables, seeds, nuts, and much more.
Herbal Tea
Herbal tea is a not only great for a mid-morning or afternoon pick-me-up, but it may also help digestive health. Try introducing up to three cups of herbal tea a day, however, limit any laxative herbal teas to once a day.
Laxative herbs:
Psyllium
Slippery Elm
Aloe Vera
While laxative herbal teas may help symptoms of constipation, it can cause harm if consumed too much. Good herbs to consume in herbal teas include ginger, cayenne pepper, and garlic, as they help to remove bad bacteria.
Gut Cleanse Detox Foods
Simply, the best way to help your gut health is to eat foods that support your body's natural detoxifying process. The liver plays a key role during detox, so it is important to consume foods that your liver will love.
There are many foods that help to promote great gut and liver health, here are a list of some foods to introduce into your diet:
Broccoli
Swede
Turnips
Cauliflower
Tomato
Carrot
Bok Choy
Spinach
Cabbage
Avocado
Kale
Not only do these foods help the digestive system, but some also contain antioxidants and are a powerful anti-inflammatory. For instance, carrots are a great source of vitamin A which helps to prevent liver disease. Furthermore, tomatoes help protect the liver from damage, while spinach works by reducing fat in the liver.
Foods to Avoid During a Gut Cleanse
High-fat and high-sugar foods should only be enjoyed as part of a balanced diet. Eating too much fat and sugar will starve the good bacteria, which will have an adverse effect on your colon health. Here are some foods to avoid or limit:
Processed Meats
Sugar
Salt
Alcohol
Saturated Fats
Water Consumption
Many people overlook how important water is for your overall body health. Water plays a vital role in helping the digestive system run effectively. It is recommended to drink around six to eight glass of water each day.
In addition, try adding foods into your diet that are high in water content.
Watermelon
Lettuce
Cucumber
Celery
Tomatoes
What is psyllium husk? It's a type of fiber from the seeds of Plantago plants. It is popular for its ability to absorb water. You may also need to stock up on gut cleanse supplements such as the BIOHM Reset Regimen.
BIOHM Reset Regimen
Prebiotics, which feed the beneficial bacteria including fungi
Probiotics, which add more helpful strains into your gut
Colon cleanse, which helps get rid of the toxic buildup in the colon

Gut-Healthy Meals and Plans
Maintaining a healthy gut offers many health benefits that go far beyond helping the body's natural detox process. While following a 7-day gut cleanse meal plan, you will see benefits of improved sleep and mood, maintaining a healthy weight, and improved heart health.
Based on the information above, your sample 7-day gut cleanse meal plan can feature any of the following meal ideas:
As Soon as You Wake Up
Start the morning with a glass of lemon water to "wake up" your digestive system. It is important to drink water before consuming any food each morning, to help stimulate your digestion.
Tip: Drink warm water as it helps your gut to digest it as it requires less energy.
Now is a good time to take any supplements that you are including in your gut cleanse diet too. Although, read the instructions before consuming any new supplements to make sure that you can maximize the benefits.
Morning Options
For breakfast, it is important for your gut and overall health for you to enjoy a sugar-free breakfast. Start your morning off with a healthy, balanced breakfast that is packed with gut-friendly foods.
Here are a few food and drink ideas for the morning:
1. Chia Pudding
An hour after, consume your first meal, which is chia pudding. To make it, combine at least a half cup of chia seeds, which are rich in omega-3, and a cup of coconut milk or almond milk in a mason jar. Set it in the fridge for at least 2 to 3 hours.
Tip: You can make this a night before. You can also create many of these, which should last you for three days.
2. Avocado Toast with Naturally Sweetened Peanut Butter
Go for whole-grain bread, but if you're allergic or intolerant to gluten, opt for gluten-free options. The avocados, meanwhile, are an awesome source of healthy fats and multiple vitamins and minerals.
3. Scrumptious Green Waffle
This green waffle recipe nourishes your gut by enriching it with probiotics and digestive enzymes. At the same time, you can make this delicious by topping it with honey and your favorite seasonal fruit like strawberries or bananas.
4. Overnight Oats
This overnight oat recipe is completely versatile, as it can be customized each day. Simply pour ½ cup of rolled porridge oats into a bowl and pour over 2 tbsp of Greek yogurt. Refrigerate the mixture and in the morning add your favorite fruits. You could also add some pure maple syrup!
Remember: It is important to limit the number of snacks you consume throughout the day. Give your gut a break by reducing snacks. If you are feeling a bit snack-ish around mid-morning, try drinking an herbal tea.
Lunch Options
1. Lemon Garlic Baked Salmon
Salmon has high levels of omega-3 fatty acids. Lemon can provide you with vitamin C to boost your immunity while garlic is a prebiotic. This is easy to make. Preheat your oven to 400 degrees Fahrenheit. Line your baking sheet with parchment and lay down your fish with the skin on the bottom. Drizzle the fish with olive oil and then top it with minced garlic and lemon juice. You can also place the lemon slices on top. Bake for at least 15 minutes or until the fish's flesh turns pink and becomes flaky.
2. Veggie Burrito Bowl
This healthy and delicious burrito bowl is 100% plant-based and an excellent lunch option for your gut cleanse. After all, it has super greens like arugula, herbs like cilantro, fats such as olive oil and avocado, and fiber-rich veggies like cauliflower.
Tip: To make this the best gut cleanse lunch, substitute rice vinegar with apple cider vinegar.
3. Chicken Meatball Zucchini Spaghetti with Marinara Sauce
Just because you're doing a gut cleanse doesn't mean you can't have something fancy. To make this recipe, start with the meatballs. Preheat your oven to 350 degrees Fahrenheit. Combine a pound of ground chicken, 2 cloves garlic, 1 tablespoon flaxseed and nutritional yeast, egg, and salt and pepper to taste. Form the mixture into balls and then bake them for at least 20 to 30 minutes, depending on the size and quantity of the meatballs.
To make your marinara sauce, heat your saucepan and then add 2 tablespoons of olive oil. Mix 28 ounces of peeled tomatoes, 1 yellow onion, 2 chopped garlic cloves, and a teaspoon of oregano. Simmer for 45 minutes to an hour while crushing the tomatoes as you go along. On the side, make your zucchini noodles by cutting the veggie lengthwise in thin slices. Then on a skillet, add olive oil and cook the zucchini noodles lightly. Combine the meatballs, marinara sauce, and zucchini pasta when ready to eat.
RELATED: Leaky Gut Diet: Top 11 Foods To Eat And Avoid
Snack Options
While it is important to limit the number of snacks you consume throughout the day, here are some gut-healthy snack ideas if you are struggling to get through until mealtime.
½ Cup of Raspberries
1 Cup of Blackberries
1 Clementine
Pepper Slices and Hummus
1 Apple
10 Almonds
Dinner Options
1. Kale and Turkey Meatball Soup
This is a hearty but easy-on-the-tummy soup everyone in the family will surely love. Add a spice like turmeric to make it even healthier for the guy.
2. Super Green Salad with Miso Vinaigrette
Yes, you can create a salad dressing with miso. In fact, it adds more texture and flavor, so you'll enjoy this light dinner better. For your base or salad, choose your favorite super greens, but we recommend kale, spinach, broccoli, and arugula. You can also add some almonds, cashew nuts, flaxseed, and chia seeds, as well as sprouts. For the dressing, combine 3 tablespoons of extra virgin olive oil, 2 tablespoons natural orange juice, 1 tablespoon apple cider vinegar, a half-teaspoon of grated ginger, and a tablespoon of water.
3. Thai-Style Lettuce Wraps
With this recipe, you can do a leaky gut cleanse without feeling bored. To make this, combine diced carrots, celery, and yellow onion. To serve as a bind for these veggies, you can pulse 1 cup of pecan halves. For the sauce, you need 1/4 cup tamari, 2 tablespoons of apple cider vinegar, a drizzle of honey, and minced garlic and ginger. Combine the ingredients for the sauce in a bowl while in a saucepan, add some water and soften your veggies. Cover them with the sauce and bring them to a simmer until the vegetables are soft. Cook for at least 15 minutes, let it cool for a while, and then transfer your mixture to lettuce cups.
More Tips for Your Natural Gut Cleanse
You may have two snacks a day, one after breakfast and one after lunch, but do so in moderation.
Exercise is also good for the gut, but during the cleanse, choose low-impact options such as yoga.
Mix and match the options above to excite your meal plan for the next 7 days and be creative.
You may also add fish oil capsules and aloe vera to your list of supplements.
Eat fermented foods such as kimchi and sauerkraut as appetizers, side dishes, or toppings for your salads.
Don't forget: finish your day off with a good night sleep. Aim to get over eight hours of uninterrupted sleep, where possible. A long sleep every night will help your overall health, giving your body the rest it needs, and boosting your gut reset diet.
Here's BIOHM avocado egg boats recipe for healthy gut health from BIOHM Health: 
You can do the 7-day gut cleanse diet anytime, but make sure you do it with the approval and guidance of your doctor. The information above should help teach you how to cleanse your gut. This way, you can be proactive in taking care of your health, especially if you feel your digestive system is already out of balance.
What are your favorite gut cleanse recipes? Share them in the comments section below! Up Next: