Recipes
Berry Probiotic Smoothie Bowls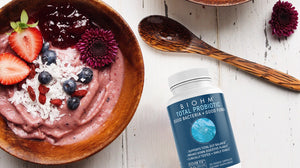 Berries and cream and probiotics please! This recipe has our guts smiling. Not only does it taste delicious but the added benefits from BIOHM Probiotics are just the addition needed to that daily routine.
Ingredients:
1 banana, frozen
5 strawberries, frozen
½ cup blueberries
¼ cup coconut cream
1 tablespoon honey
BIOHM Probiotic capsule, opened
 Toppings:
Flaked coconut
Blueberries
Strawberries
Goji berries
Strawberry jam
Instructions:
In a food processor puree frozen banana, frozen strawberries, blueberries, coconut cream and honey. Pulse until creamy. Stir in probiotic. Add to bowls and top with toppings. Enjoy!