Recipes
Immune Boosting Red Curry Soup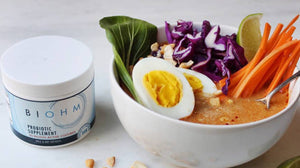 The more colorful your food, the better! With this vibrant soup you get your daily intake of vegetables all while improving your immune system. The creamy curry is slightly sweet, slightly spicy and can be made in big batches for meal prep. Don't forget to take your daily probiotic before diving in to this delicious soup!
Ingredients:
1 tablespoon olive oil or coconut oil
2 cloves garlic, minced
2 tablespoons red curry paste
1 large sweet potato, peeled and cubed
2 zucchinis, spiraled into noodles
4 cups vegetable broth
2 teaspoons salt
1 teaspoon pepper
1 can coconut milk (13.66 fl oz)
Baby bok choy
Red cabbage, chopped
1 hard-boiled egg
Unsalted cashews
1 carrot finely chopped lengthwise
1 lime, quartered
Serve with your daily BIOHM Probiotic Capsules
Instructions:
In a large pot, heat olive oil over low/medium heat. Add garlic and red curry paste and cook for a few minutes. Add sweet potato and zucchini noodles to the pot then pour in your vegetable broth. Season with salt and pepper to taste.
Cover and simmer on low for about 15 minutes or until sweet potatoes are soft and tender. Stir in coconut milk and baby bok choy. Top with the remaining ingredients and serve hot. Eat right after taking your daily probiotics and start boosting your immune system! Enjoy!