Recipes
Super Protein Balls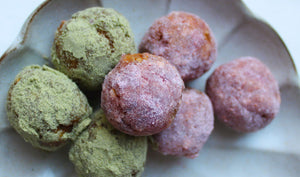 Looking for a snack that's readily available for a quick bite or on-the-go energy? These Super Protein Balls are sweet and tasty, while packed with healthy fats, proteins, and antioxidants.
You can make these Super Protein Balls in less than 20 minutes and keep them close to treat yourself with a mid-day snack or pack a couple of them if you need to step out and run errands.
BONUS TIP:
Throw them in the freezer when the days are hot so you can enjoy a cool protein ball on a hot day.
Best part of all, kids love 'em too and they're healthy (they don't need to know that)! Go on, make yourself a batch.
RELATED: Super Foods In this article:
Red and Green Superfoods
Red and green produce both provide many long-term health benefits.
However, fruits and vegetables of different colors contain distinct amounts of essential vitamins and minerals and unique forms of phytonutrients. As a result, the main difference between super reds and super greens is the nutrients they contain.
Super greens include higher amounts of vitamins A and C, magnesium, calcium, and iron, which support vital body functions. 
The most powerful super greens include:
Broccoli

Kale

Spinach

Parsley

Barley grass and wheat grass
In contrast, super reds contain many unique phytonutrients due to their color, such as lycopene and anthocyanins. These help with antioxidation and anti-inflammation.
The most powerful super reds include:
Cherries

Cranberries

Acai

Pomegranates

Red beets
If you're not getting enough red and green fruits and vegetables in your daily diet, our Super Protein Balls are an excellent and easy way to provide your body with those essential nutrients.
Ingredients
½ cup pitted dates

¼ cup sliced almonds
¼ cup cashews
1 tablespoon chia seeds
¼ cup peanut butter
1 tablespoon honey
BIOHM Super Reds, for rolling
BIOHM Super Greens, for rolling
Instructions
In a food processor pulse all ingredients together until sticky. Roll into balls then roll into super powders.